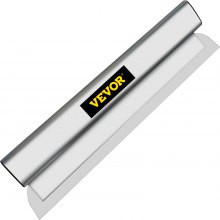 (39)
Member discounted price
Deal after registering
Out of Stock
Skimming Blade
Skimming Blade

The putty-taping spatula blade is a construction of high-quality stainless steel. It is guaranteed to stay straight and flexible thanks to its metal surface. With your efforts, you can fit this sharp tool into small joints and seams, giving your surface a uniformity that stands out. This tool has the highest caliber and durability because it is from VEVOR.
Types of Skimming Blade
1. Skimming Blade of 40-inch size
This 40-inch skimming tool has a 0.5 mm stainless steel core and a black rear made of premium aluminum. It moves dirt with excellent sensitivity and effortlessness. It allows finishers to complete work quickly and with consistent, professional results.
2. Skimming Blade of 32-inch size
This 32-inch skimming tool is made of 0.5 mm stainless steel, has a black back, and has premium aluminum housing. Aluminum extruded to aircraft-grade standards makes up its housing of it. The tool offers high strength and impact resistance while remaining lightweight and stiff.
3. Skimming Blade of 24-inch size
This 24-inch skimming tool has a 0.5 mm stainless steel core and a black rear made of premium aluminum. Blades can be replaceable if they become worn or damaged. These premium materials ensure a long service life for your finishing equipment.
VEVOR 24-inch Skimming Blade
Size: 24 x 5.4 x 2.1 in / 60 x 13.8 x 5.4 cm
Model:-----
Material: Stainless Steel
Key features and functionality of Skimming Blade
Blade made of stainless steel
These blades are of high-quality aluminum, have a black backing, and are the construction of 0.5 mm stainless steel. The tools move dirt effortlessly and with great sensitivity, allowing finishers to complete work quickly and with consistent, professional results.
Design that saves time
VEVOR's drywall skimming blade has a lightweight, easy-to-hold ergonomic grip that is pleasant and non-slip. This design allows you to precisely manage the amount of plaster and proficiently smooth drywall compound over joints and other places. Feel each stroke and get ready for the next one.


Switchable Blades
Replace blades that are broken or worn. High-impact, glass-filled composite end caps can be removed for quick and easy blade changes, preventing material collection in the house from drying out.
Superior Quality
Our tool has an aircraft-grade extruded aluminum blade housing. It maintains its rigidity while maintaining its light weight by providing excellent strength and impact resistance. Our high-quality materials will ensure that your finishing tools last a long time.
A few uses of the Skimming Blade
You can use it alone or with an extension pole for enhanced reach and comfort. VEVOR stainless-steel putty-taping spatula skimming blade is ideal for filler, caulk, plaster, putty, scraping, paint and wallpaper removal, and sealing applications. It is simple to clean, dependable, and ideal for regular usage on any job site.

How Do You Choose the
Best Skimming Blade?
Material
Consider the material utilized to make the skimming blade. VEVOR is one of the best skimming blades because of its high-quality aluminum housing, black back, and 0.5 mm stainless steel composition.
Design
The design of a skimming blade may influence your decision to obtain it sooner. VEVOR provides a drywall skimming blade with a comfortable, non-slip ergonomic grip that is lightweight and simple to hold.
Replacement of the blades
If you proceed with your purchase, you must examine the interchangeability of the skimming blade. It can benefit you in the long term and reduce your financial burden. In this scenario, VEVOR can fix your problem admirably. VEVOR makes it simple to replace the skimming blades when they damage or get worn out. The blade replacement is possible quickly and easily by removing high-impact, glass-filled composite end caps.
Price
The price of the skimming blades is a factor to consider as it may influence the characteristics you desire in your potential skimming blades. Depending on your financial condition, you can select a skimming bade with limited or adequate features. VEVOR skimming blades are built of high-quality materials and are durable at affordable prices.

Is it worthwhile purchasing the VEVOR Skimming Blade?
Skimming Blade from VEVOR is undoubtedly worthwhile. It has an ergonomic design, interchangeable blades, high-quality materials, and affordable pricing. You may thus be confident that you are buying the best one for your business needs.