As the demand for customized apparel continues to rise, so does the demand for high-quality heat press machines. Among the numerous options in the market, the VEVOR Heat Press stands out as a reliable and versatile machine that offers both efficiency and precision.
However, is it really worth investing in? In this review, we will dive into the features, pros, and cons of the VEVOR Heat Press to help you make an informed decision.
Part 1: VEVOR Heat Press: What is it?
VEVOR heat press is a machine that allows you to transfer your creative and unique design onto various materials like T-shirts, Hats, bags, mugs, and more. The Machine transfers the design by applying heat and pressure from the designed transfer paper. This machine has several features that make it a reliable tool for both personal and commercial use.
VEVOR Heat Press is designed with a lightweight and compact build, making it easy to transport and store. Additionally, its digital control panel allows for precise temperature and time settings, ensuring consistent and accurate transfers.
To assist you in your search for the perfect tool, we have curated a list of the top VEVOR Heat Press reviews for 2023.
Part 2: Top VEVOR Heat Press Reviews- Specifications and Features
Here is the list of top 5 VEVOR heat press tools for 2023.
1.
Heat Press 15×15
Heat Press 15×15 is a top choice due to its multifunctional properties, affordable pricing, and advanced feature among the all tools. Its designed with 800w allows large 360-degree rotation swing-away design transfer easily. It has also dual tube heating for DIY T-Shirts Cap & Mugs.
Feature and Performance of VEVOR Heat Press 15×15
Accurate Digital Display: Large display, easy operation. Switch time and temperature quickly for efficient production. One press for instant results.
Dual Tube Heating: Double-tube heating ensures uniform heating and better transfer quality. Minimal temperature difference between center and edge.
Trusted Performance: 15″x15″ heat platen for transfer to flat-faced items. Teflon-coated to prevent scorching.
Security Anti-scalding: Sublimation heat press with 2-layer insulation, safe and efficient at 210 ℃.
●
Modal:
Heat press 15×15
● Voltage: 110V
● Highest Temperature: 210℃/ 410°F
● Transfer Size: 15*15
● Hat/ Cap Press: 6''x3''(curved)
● Max Plate Press:10'' diameter
Pros
:
● A lot of heating plates for different sizes
● LCD and digital control
● Affordable price
2.
Tumbler Heat Press F270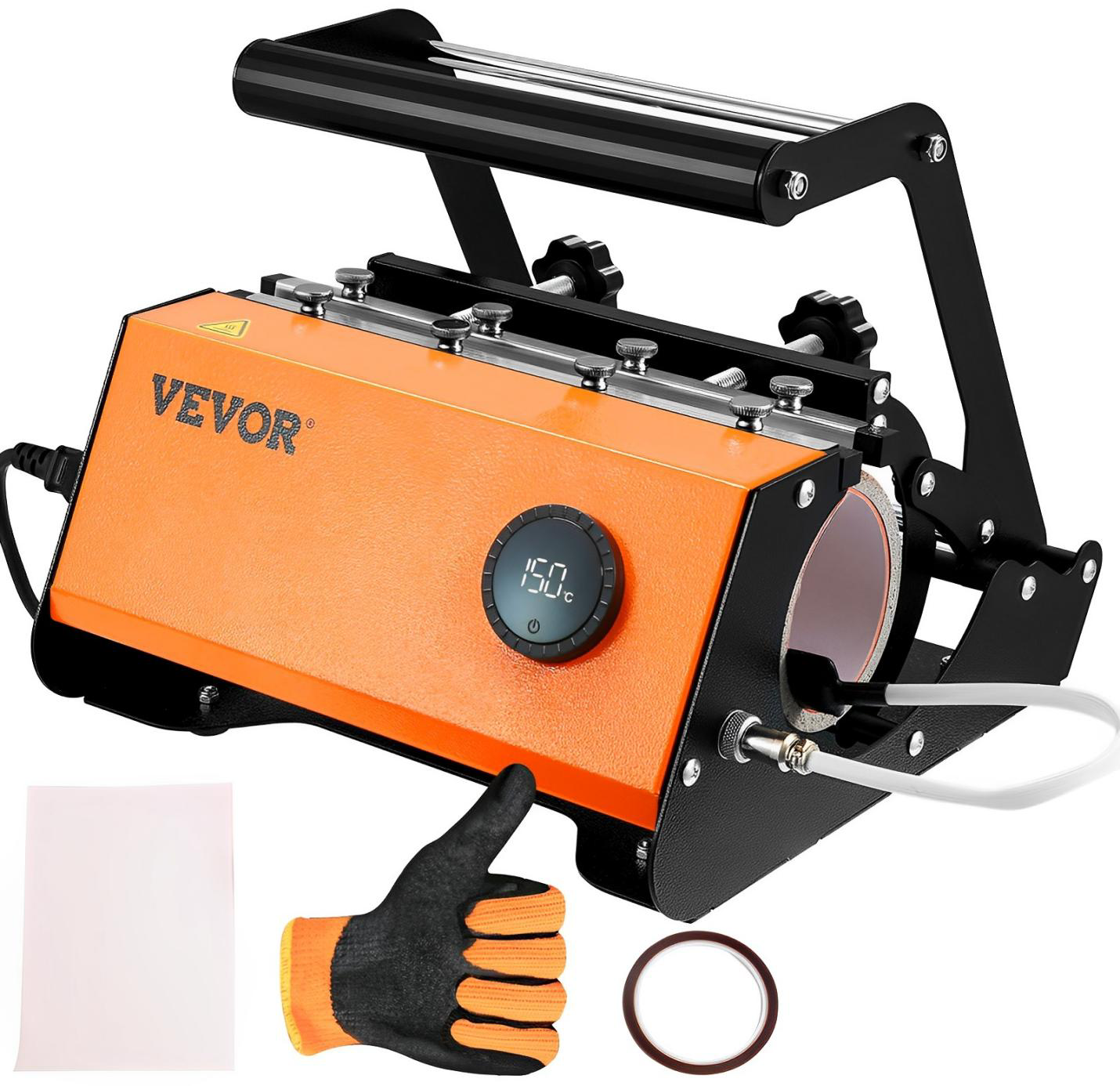 This F270 mug press machine allows you to easily transfer your favorite designs onto any cup, glass or mug. With its innovative knob control and double-control circuit, you can create unique and special mugs with ease and peace of mind.
Key features and performance of Tumbler heat press F270
Extra-large 30oz Capacity: Press two cups at once! The 30oz capacity accommodates different cup sizes like wine glasses, aluminum bottles, coffee mugs, and more.
Easy Rotation: Intuitive touchscreen with temperature and time display. Just a turn and you're all set!
Timer Alert: Stay safe and alert with this mug heat press machine. It beeps at the perfect time!
● Power: 110 v
● Temperature: 40C to 210C
● Time: 0 to 999s
● Max Height: 25cm
● Applicable material: Ceramic / Stainless Steel / Aluminum Alloy
Pros
:
● Light weight and versatile
● Innovative knob control
● Automatic time control
3.
Mica Portable Heat Press 9 x 9
This heat press machine is suitable for anyone who needs to iron or heat transfer print clothing or other materials, whether for commercial or personal use. It can be used to create patterns on t-shirts, canvas bags, coasters, pet collars, woodwork, baby blankets, and more.
Versatile Functionality: The heat press can be used for ironing or heat transfer printing, heats faster and uniformly. Equipped with a security base and insulation body for safety.
User-Friendly Controls: Relax and enjoy the process with our portable heat press, featuring 9 LED indicators and a large digital display for temperature and time control.
● Power: 670W
● Voltage: 40-205℃ / 104-401℉
● Time Range: 1-999s
Pros
:
● Lightweight
● Detailed design
● Available at a cheap price
● Lower power consumption
4.
VEVOR Hat Press
The VEVOR Heat Press 6×3.75Inch is a compact and versatile machine that can be used for both commercial and home use. It features an aluminum heating plate with a Teflon-coated cap platen, digital timer and temperature control, and a user-friendly clamshell design.
Uniform Heating: The Teflon-coated aluminum heating plate measures 3.5″ x 5.5″ / 9 x 14 cm and can provide temperatures of up to 750℉ / 399℃.
Automated Controls: A LCD regulator helps users set the temperature and time more flexibly. You cannot need to control temperature and time manually.
Easy to Use: Ergonomic foam handle reduces obstruction. Curved components transfer images perfectly onto golf caps.
● Power: 110V
● Types of Cap Applicable: Golf Caps
● Temperature Range: 0 – 399 °C / 0 – 750 °F
● Time: 0-999s
Pros:
● Versatile printing options
● Space-saving clamshell design
5.
15 x 15 Industrial TL3838-1
The VEVOR 15 x 15 Industrial Heat Press is a machine designed for transferring designs onto various materials such as cotton, cloth, ceramics, glasses, fabrics, flax, and nylon, among others. It features a larger heating pad with a sponge for a quicker heating speed and better transfer effect.
Digital Control Board: Precise control panel for accurate temperature and time regulation, with automatic alarm after heating.
Easy to Use: Simple and user-friendly design for convenient operation, suitable for both personal and commercial use.
Large Heating Pad: 15 x 15 inch heating pad with a sponge for quick heating and better transfer effect, suitable for various materials.
● Power: 110V
● Temperature Range: 0-450℉ / 0-232℃
● Timer Control: 0-999s
● Product Weight: 41.66 lbs / 18.9 kg
Pros:
● Silicone & Sponge Pads
● Upgraded Teflon Coating
● Tightly Wrapped
Part 2: Factors to Consider When Choosing a VEVOR Heat Press
Remembering to take this product is important. Choosing a VEVOR heat press mode involves numerous criteria. I'll describe the most typical heat press selection factor.
● Size and Capacity: first you need to consider the size and capacity of the heat press and product you want to design. If you want to work for larger items, you may need a larger heat press to accommodate them.
● Pressure and Heat Setting: you may also need to choose when which has constant pressure and heat to transfer the design. Check out that you have achieved the pressure and heat level for your required designs.
● Durability and Build Quality: Choose a heat press made of high-quality materials to guarantee it lasts and can handle repeated usage.
● User-friendly: select a modal that's simple and inventive to control. These will boost productivity and make project start-up and consistency easier.
● Price: Consider your budget and buy a heat press with high value. Find affordable models with many features.
Consider these factors to choose a VEVOR heat press model that meets your needs and helps you succeed with heat transfer projects.
Part 3: How to Use VEVOR Heat Press
1. Setup Temperature and Time
Get ready to heat press on a firm table! Set the time and temperature based on your material. Ideal temperature and time are determined by your pressing material. Check the instructions on the packaging. Don't worry if the design appears high, it should stay at 350°F to 375°F.
2. Set the Pressure
Adjust pressure as temperature changes. Use the control knob to fine-tune. Plate moves up and down. Simply lift and lower the lever until it feels right for your project.
3. Dry and Clean
Clean, dry, and wrinkle-free your clothes before pressing. This will enhance your design.
● Centre and straighten your transfer design on the object facedown.
● Close the press evenly using the handle or lever. Time the transfer material instruction.
● Open the press and remove the transfer paper. Before using, let it cool down.
VEVOR heat press instructions differ per model, so read them carefully.
Common mistakes to avoid when using VEVOR Heat Press
● Test the settings before pressing your final item.
● Upload high-resolution photos to minimize blurring. Sublimation printers and ink may produce images instead of transfer sheets.
● Pulling the handle requires two hands at higher forces. Avoid spilling it! If possible, screw it to the table.
Part 4: Maintenance and Troubleshooting Tips for VEVOR Heat Press
1.
VEVOR Heat Press care
• After each usage, clean your machine and spray silicone oil on the hinge.
• Replace worn heating elements and wiring.
• Store the heat press in a cool, dry area with a protective sheet when not in use.