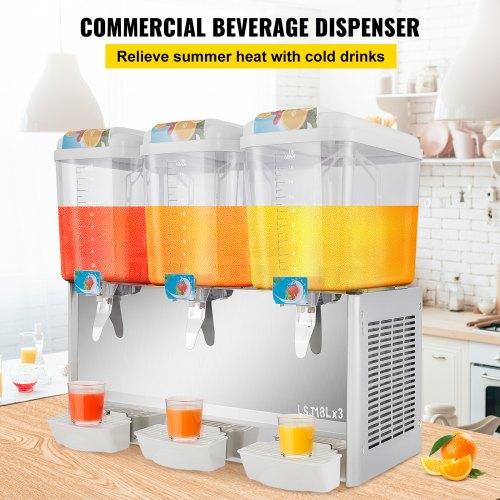 If you're looking for a way to keep your family hydrated during the summers, thinking of a new business, or are looking for a bigger way to serve your fruit juices at your parties, then this is the right way to start. A juice dispenser machine is a cool, decent way to keep your guests refreshed, and owing to their huge sizes, your guests can now come back for the second or third cup.
After putting the juice in the dispenser, you'll only need to pull up the tap and the amazing refreshments will start flowing. These very important machines come with different capacities, with one, two, or three gallons. Hence you can go for what works best for you. For instance, a triple-bowled dispenser would be great for a huge event where the guests have three different options to choose from.
List of Top 5 Juice Dispenser Machines for 2023
1. VEVOR 110V Commercial Beverage Dispenser
Among the top-ranked juice dispensers, VEVOR comes first.
The first things you'll fall in love with are its fancy design, huge capacity, and its user-friendliness. You have the option to sign up for VEVOR MONTHLYDY PROECIS where you can post your DIY products and earn a $100 coupon. At such a price slash, you can now get the VEVOR Commercial Beverage Dispenser at a price you're most comfortable with.
High-end quality: Unlike the problematic ABS/AS tanks that keep breaking or cracking at every slight pressure, the machine comes with three sturdy, BPA-free PC gallons. Instead, its thickened SUS body adds to its rigidity and longevity. The body of the machine is also rust-free as its evaporator is stainless steel to provide a sufficient cooling effect.
Huge volume: VEVOR's juice dispenser machine comes with three 18L gallons which allow you to serve different juice flavors and a big number of people at a time. At the bottom of each gallon is a broad mixing leaf that ensures your drinks remain well-mixed throughout. Attached to the mixing leaf is a rubber gasket that prevents leakage.
Thermostatic control function: With a powerful condenser and compressor, the dispenser ensures that your drinks remain at a cool temperature of 7-12 ℃. At its back are stirring and cooling switches that allow you to independently control the two functions.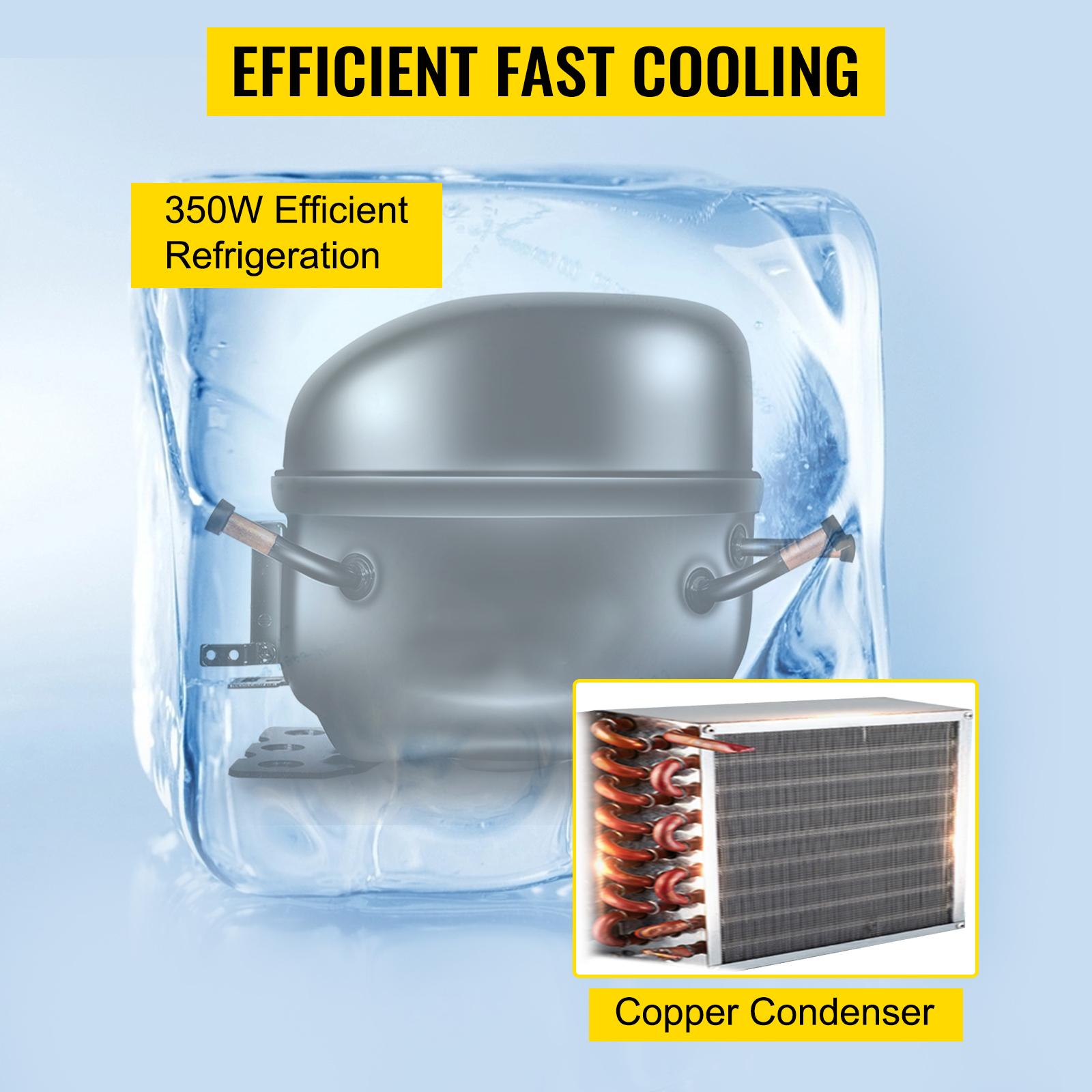 Human-friendly design: From big handles at each side of the dispenser to make it portable, big trays at the bottom of the machine that traps water in case of spillages, sizable venting holes for excellent heat dissipation, to faucets with springs that prevent leakage, the machine has all you need in a dispenser.
Convenience and versatility: With this powerful machine, you're free to serve different types of drinks such as milkshakes, fruit juices, yogurt, soybean milk, cocktail, coffee, etc.Non-slip rubber feet that keep the machine in position.
Specifications
Power: 350W

Total capacity: 48L

Gallon material: Food-grade PC

Weight: 94.8 lbs
Pros
Friendlyrates

Has a huge capacity

Can be used both at home or commercially

Very easy to operate and control
2. Royal-Kincool Refrigerated Juice and Beverage Dispenser
The Royal-Kincool beverage dispenser is a triple-gallon machine that fits large-scale consumption. The machine has durable, premium features that both extend its life as well as make the drinks safe for human consumption.The machine falls on the pricey side for the fancy, high-quality specifications. Here's more to this powerful beverage dispenser.
Excellent build: The machine comes with a 360-degree mixing paddle that keeps the drinks even, tasty, and less sedimented. The mixer is connected to a magnetic copper motor that's also connected to separate on/off power buttons.
Stainless steel: The dispensing valve, cooling cylinder, and handle are stainless steel and hence they are less vulnerable to rust or abrasion
Food-grade tanks: The package comes with 3 food-grade, BPA-free PC tanks that make it healthy for you and your kids. The multi-layered crystal clear gallons exquisitely display your refreshments without any chances of cracking or leaking.
Adjustable temperature settings: You have the option of changing the temperature settings from 0 to 10℃, according to your preference, separately for each tank.Premium specifications: Powerful compressor that's less noisy, combined with a CFC-free refrigerant R134A.
Features
Model: Corolla-3S-BK2

Weight: 92 pounds

Total capacity: 36L
Pros
Less noisy

Large capacity

User-friendly temperature control panel
3. CFS TrimLine Plastic Economy Double Base Beverage Dispenser
CFS TrimLine's juice dispenser comes double-gallon with excellent features. If you want a price-friendly dispenser that wouldn't eat up much space on your kitchen counter and still suffice your parties, then TrimLine has got you.

Features and Performance of CFS TrimLine Plastic Beverage Dispenser
Food-grade gallons: The two tanks are built of strong PC plastic that doesn't in any way compromise your health.
Excellent design: You have a rectangular-shaped machine that only takes a small portion of your kitchen or restaurant counter. The plastic is not only sturdy and less vulnerable to cracks than AS tanks.
Easy to clean: Its body is resistant to grease, oil, or any inorganic acids, and dishwasher-safe for easy, less-taxing cleaning.Hingeless cover: The tank covers are easily detachable and hingeless to reduce the chances of breakage or spills.
Pros
Easy to clean

Reduced chances of spillage or leakage

Budget-friendly
4. SPACE 3 Tanks Fruit Juice Dispenser
SPACE's fruit juice dispenser is a pricey machine that comes with literally everything you need in a fruit juice or beverage dispenser. The versatile machine might break your bank but will eventually prove worth the money.

Features and Performance of SPACE Fruit Juice Dispenser
Large capacity: The machine features 3 12L large tanks that can serve many cups at a go.
Strong safe-to-use tanks: The tanks are made of BPA-free non-toxic polycarbonate that creates a safe environment for the drinks. This material is also resistant to alkalis and acids. They are also multi-layered which extends their lifetime
Easy accessibility and usage: The machine has removable parts like the dispense valves and handles.
Premium features: Has a hermetic compressor and air-cooled condenser that keep the drinks at the desired temperature. The body is made of stainless, abrasion-free steel.
Specifications
Total capacity: 36L

Cooling power: 270W

Power supply: 220V/50Hz 110V/60Hz 220V/60Hz
Pros
Less noisy

Large capacity

Versatile usage
5. Winco Stainless Steel Juice Dispenser
Winco Stainless Steel Juice Dispenser ranks 5th on our list for being among the best small-scale juice dispensers and for attracting a plethora of positive reviews among its users.
Features and Performance of Winco Stainless Steel Juice Dispenser
This 2.2-gallon tank comes with excellent cooling abilities without compromising the taste and quality of the juice. The stainless steel parts of the dispenser add to its durability as well as give it a fancy, attractive appearance. The transparent, thickened PC plastic tank makes it healthy for the drinks and is removable for easy cleaning.The machine comes with a removable, stainless steel drip tray that makes cleaning convenient
Specifications
Material: stainless steel
Capacity: 2.2 gallons
Weight: 9.9 pounds
Pros
Ideal for at-home use

Light-weight and durable

Easy to access and clean

Great cooling abilities
After the above review, you'd agree that VEVOR takes the day for its amazing, exceptional specs. While brands like Royal-Kincool have great dispensers, they may not be the best when working on a tight budget. VEVOR offers so much in exchange for very little, considering their coupon offer, reasonable dimensions, wide application, and great specs.
Different Types of Juice Dispenser Machines
Electric Juice Dispensers
They use electric energy to operate. When plugged into power, the motor in the machine is powered up and in turn, rotates the mixer. The machine also uses electric power to keep the juice or beverages cool.
Non-electric Juice Dispenser
They use batteries to keep the drinks well-mixed and cool. They are mostly cordless and are not as convenient as electric ones especially when the battery's uptime is short.

What You Should Look for When Buying a Juice Dispenser?
MachineCapacity
The number of people you're going to serve at a time will inform the size and number of gallons you'll go for. Businesses like cake shops, restaurants, hotels, or gyms will require double and triple-tanked dispensers while single-tanked dispensers are good for small family use.
Material
You want to know how safe the material that the dispenser machine comes with is. Hence, look for a durable, high-quality material that's wear-resistant so that the machine can last long.
Style
This refers to the design and decor of the dispenser machine. This influences the joy and confidence you'll have in displaying the dispenser before your guests or customers. For instance, a stainless steel machine body with crystal clear tanks is a good place to start from.

FAQ About Juice Dispenser Machines
How do I use a juice dispenser?
Get your pre-mixed juice and after opening the lid of the dispenser's tank, pour the drink in there and cover it again. Press the power button and give it some time to cool. If the dispenser has an ice core, fill it with ice cubes and leave it to cool down. After the drink is cool enough, open the spout to let the drink flow into the cup.
Can I use a dispenser machine daily?
Yes, if it is of good quality. For instance, high-quality dispensers like VEVOR are designed to withstand any kind of pressure that occurs daily in a large-scale restaurant. However, low-quality AS dispenser machines cannot endure the daily pressure of a business.