Stainless steel outdoor kitchens have become increasingly popular among those who love cooking outside, entertaining, or holding outdoor parties and gatherings. Outdoor stainless steel kitchens not only make outdoor cooking a lot easier and more convenient but also add an aesthetic appeal to your outdoor space.
Stainless steel, widely known for its rust- and corrosion-resistant properties, makes an excellent material choice for outdoor kitchen setups. With an outdoor stainless steel kitchen, you would not have to worry about constant exposure to elements—harsh UV rays, rain, wind, etc. Besides the durability, stainless steel outdoor kitchen components are also very hygienic and eco-friendly.
If you think a stainless steel outdoor kitchen would make a good fit for your outdoor space, continue reading. In this comprehensive guide, we are going to discuss all about stainless steel outdoor kitchens. We will start by exploring different grades of stainless steel used in the manufacturing of outdoor kitchen components and then will discuss different outdoor kitchen stainless steel components, allowing you to pick and choose and make a customized outdoor kitchen. So, let us get started!
Different Grades of Stainless Steel for Outdoor Kitchens
It is widely believed that all stainless steel outdoor kitchen components are made of the same material—stainless steel. But many do not know that stainless steel used for manufacturing outdoor kitchens comes in different grades, offering differing levels of durability, corrosion resistance, and overall performance. Below we have briefly discussed more commonly used grades of stainless steel for outdoor kitchens.
201 Stainless Steel
201-grade stainless steel is known for its exceptional durability and affordability. It offers outstanding corrosion resistance, making it suitable for outdoor applications. However, it has a comparatively low nickel content, affecting its corrosion-resistance capabilities. That said, this Outdoor Kitchen Door Drawer Combo and Equipment Grill Stand manufactured with 201 stainless steel offers water- and rust-proof features and promising durability.
304 Stainless Steel
304 stainless steel is one of the most popularly used grades for outdoor kitchen applications thanks to its exceptional corrosion resistance, durability, and versatility. This grade of stainless steel contains a higher nickel percentage than most other grades. This is the reason that most high-quality outdoor kitchen cabinets are manufactured with 304 stainless steel. If you are looking for the most durable outdoor kitchen components, you should consider the following made of 304 stainless steel:
• Flush Mount Triple Access BBQ Drawers
• Outdoor Kitchen Propane Tank Drawer
• Stainless Steel Door for BBQ Island Grill Station
316 Stainless Steel
Featuring even more nickel than 304 grade, 316-grade stainless steel is made for highly corrosive environments like coastal regions. Featuring a higher percentage of nickel, these models also tend to be costlier. Unless you are living in a region with salty air and higher humidity, 304 will do just fine. If you do not care about money, then you can go for the overkill with 316.
430 Stainless Steel
It is one of the cheapest stainless steel. But before you consider this cheap option, know that it contains no nickel and is the weakest of all of the stainless steel grades. This might also be more susceptible to pitting and fracture than higher-grade stainless steel.
443 Stainless Steel
443 is ferritic-grade stainless steel. Boasting higher percentages of chromium and titanium, this grade of stainless steel has higher rust and corrosion resistance. It is a cost-effective option, but for higher durability, we would advise you to stick with 304 grade.
Consider your budget, desired level of rust and corrosion resistance, and environmental conditions before selecting the grade of stainless steel for your outdoor stainless kitchen setup.
Pros and Cons of Stainless Steel as a Material Option
Stainless steel has become an increasingly popular material choice for outdoor kitchen setups. However, before making a decision, you must consider both benefits and potential drawbacks of stainless steel outdoor kitchen to ensure that it is right for you.
Pros of Stainless Steel for Outdoor Kitchen Setups
Here are some of the many benefits of using stainless steel for the construction of outdoor kitchens:
• Durability: Stainless steel is tough and has great resistance against denting, scratching, and fading. Stainless steel material is also known for its rust- and corrosion-proof characteristics, making it suitable for outdoor environments due to exposure to moisture, humidity, and climate elements.
• Easy Maintenance: Stainless steel kitchens are relatively straightforward when it comes to care and upkeep. Stainless steel outdoor kitchens can be easily cleaned by wiping them down with a piece of cloth, leaving no marks or smudges behind.
• Aesthetic Appeal: Exuding modernity, sleekness, and professionalism, stainless steel outdoor kitchen setups add elegance and sophistication to your outdoor space, enhancing its aesthetic appeal and making your guest wow.
• Hygienic: Besides being easier to clean, stainless steel's non-porous surface is highly resistant to bacterial growth and helps keep fungus, termites, and rust at bay.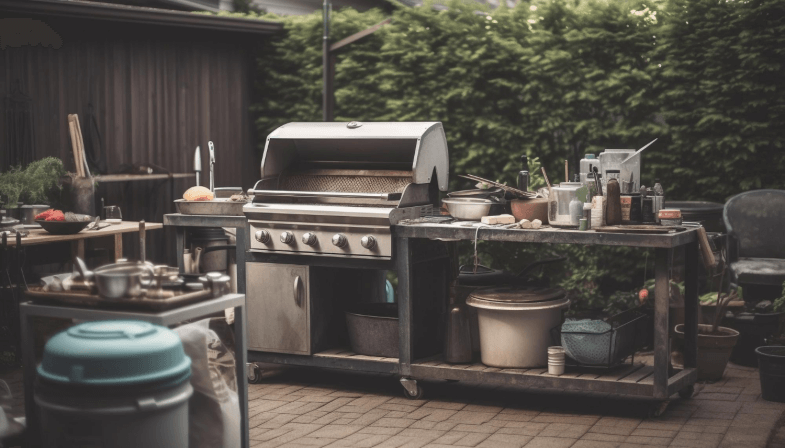 Potential Drawbacks
Where stainless steel outdoor kitchen has to offer numerous benefits, there are certain potential drawbacks as well.
• Increased Cost: Setting up a stainless steel outdoor kitchen setup can cost more than other options. But the durability and long service time of stainless steel tend to outweigh the high initial investment cost.
• Vulnerable to Scratches: Although stainless steel is durable, it does not offer total immunity from scratches. Over time, signs of wear and tear may become visible on your stainless steel outdoor island. However, certain finishes, like brushed stainless steel, can help conceal minor marks.
• Heat Conductivity: Stainless steel has a relatively high heat conductivity, meaning it can become hot when exposed to direct sunlight. Also, in direct sunlight, they tend to reflect light into your eyes. Brushed and powder-coated finishes could help deal with the reflection of sunlight. You can also consider adding an outdoor kitchen roof to deal with the direct sunlight.
Explore Outdoor Kitchen Finish Options
Stainless steel outdoor kitchen cabinets and doors come in a variety of finishes, offering different characteristics and unique aesthetic appeals.
1. Polished Stainless Steel
The polished stainless steel finish is highly corrosion-resistant, easy to maintain, and offers a sleek, modern aesthetic appeal. However, before you select this finish, know that it will make your outdoor kitchen stainless steel cabinets highly reflective, reflecting light into your eyes when the sun shines directly.
2. Brushed Stainless Steel
This finish offers a subdued, matte surface, keeping it from reflecting light into your eyes as much as a polished finish. It also helps conceal scratches that may come with usage. It is pertinent to mention here that this finish is slightly less resistant to corrosion and, like a polished finish tends to get hot.
If you are looking for outdoor stainless steel kitchen components with a brushed finish, check out the following:
o Wall Construction Stainless Steel Flush Mount for BBQ Island
o Outdoor Kitchen Trash Drawer with Handle for BBQ Island Grill Station
o Vertical BBQ Island Stainless Steel Single Access Door
3. Powder-Coated Stainless Steel
Powder-coating stainless steel involves applying a durable, colorful powder coating to its surface for customization purposes, with numerous color and finish choices available to choose from. Powder coating offers extra protection against elements and will not shine in your eyes or get too hot. However, you should be very cautious when selecting this finish, as there is a risk of chipping the coating. The coating starts to come off in flakes, leaving the underneath steel vulnerable to elements.
Each finish option provides its own set of advantages and potential drawbacks. Choose the one that best suits your needs and complements your outdoor décor and personal taste.
Stainless Steel Kitchen Components to Craft Your Dream Outdoor Kitchen
Stainless steel is an excellent material choice for outdoor kitchens. Now by picking and choosing various outdoor stainless steel kitchen components, you can begin to design your dream outdoor kitchen:
1. Outdoor Kitchen Countertops
Stainless steel countertops offer an attractive, hygienic surface for food preparation in outdoor cooking environments. Their resistance to staining, corrosion, and bacterial growth, makes them an ideal choice for outdoor kitchens. However, note that stainless steel outdoor countertops and highly reflective and tend to get very hot under direct sunlight.
2. Selecting Stainless Steel Appliances
Adding stainless steel appliances such as grill cabinets, refrigerators, prep tables, and sinks to your outdoor kitchen adds functionality while maintaining a sleek appearance. They are resistant to rust and corrosion and also help prevent fungal growth, making them a perfect option for your outdoor kitchen.
3. Outdoor Kitchen Doors in Stainless Steel
Adding stainless steel doors to your outdoor kitchen provides storage access and adds a stylish touch. Resistant to weather elements and requiring simple maintenance, these durable doors enhance the functionality of your outdoor stainless steel kitchen. They come in a variety of options, single, double, and in a combination of drawers and a door, allowing you to choose what fits your kitchen plan.
4. Stainless Steel Outdoor Kitchen Cabinets and Storage
Stainless steel cabinets for outdoor kitchens provide ample space to store utensils, cookware, and other outdoor kitchen essentials. Stainless steel drawers for outdoor kitchens are durable, weatherproof, and easy to keep clean, ideal for the outdoor environment. Consider cabinets that meet your storage needs and complement your aesthetics.
o Outdoor Kitchen Stainless Steel Triple Access BBQ Drawers
o Double Outdoor Stainless Steel Kitchen Drawers horizontal
o Flush Mount Double BBQ Drawers Stainless Steel vertically stacked
5. Stainless Steel Outdoor Kitchen Islands
Outdoor stainless steel kitchen islands are just perfect for homeowners who love to throw outdoor parties or hold family gatherings. Their customizability allows you to include grills, sinks, storage compartments, and additional countertop space, enhancing the functionality of your outdoor kitchen according to your unique needs. Given their durable construction offering resistance against outdoor elements, stainless steel is the perfect material choice for outdoor kitchen islands.
6. Enhancing Your Outdoor Kitchen with Stainless Steel Accessories
In addition to the above-discussed outdoor stainless steel components, there are many other stainless steel accessories that you may want to add to your outdoors. For instance, you can consider adding accessories, such as spice racks, ice coolers, shelves, work tables, trash drawers, slide-out pantry shelves, etc., to add functionality and convenience to your outdoor kitchen.
FAQs About Stainless Steel Outdoor Kitchen
Q: Are Aluminum or Stainless Steel Better for Outdoor Kitchens?
With its ability to handle constant exposure to direct sunlight and handle heat well without wrapping or cracking up, steel seems to be a better option for outdoor kitchens.
Q: Are Stainless Steel Outdoor Kitchens Resistant to Rust and Corrosion?
Yes, stainless steel outdoor kitchens are highly resistant to rust and corrosion due to the presence of a magical element—chromium, which forms a protective layer on its surface to ward off rust formation. That said, rust and corrosion resistance would depend on the grades of stainless steel used.
Q: What Maintenance Is Needed for a Stainless Steel Outdoor Kitchen?
Stainless steel outdoor kitchens require minimal maintenance. Regularly wiping it with a damp soapy cloth would be enough to maintain its pristine appearance. Avoid using harsh cleaners as they can scratch the surface.
Q: Are Stainless Steel Outdoor Kitchens Suitable for Coastal Areas With Salt Exposure?
Not all stainless steel outdoor kitchen setups are suitable for coastal areas. To withstand the high humidity and salt exposure of coastal regions, you need 316-grade stainless steel kitchen components. 316-grade features a higher nickel percentage for better resistance against corrosion and rust.
Conclusion
Stainless steel outdoor kitchens have become immensely popular due to their many benefits and diverse design possibilities. Stainless steel's various grades – such as 430, 201, 443, 304, and 316 – offer various levels of corrosion resistance and durability so that you can select the one most suited to your outdoor kitchen's needs. Stainless steel stands out as an exceptional material choice thanks to its durability, heat resistance, and low maintenance requirements.
Additionally, with various finishes such as polished, brushed, and powder-coated, you can customize your outdoor stainless steel kitchen to reflect your taste and style. Given that stainless steel is a huge investment, you should only work with a trusted brand like VEVOR, which is known for its promising quality and high affordability.