Rebar cutters are essential tools designed to cut through reinforced bars. That's where they got the 'ReBar' cutter colloquial name. Reinforced bars are solid steel-made bars crucial at the initial building and construction stages. They increase the strength of concrete foundations and therefore need to be of extremely tough making.
Since cutting through steel can be difficult, you'll need a specialized tool to handle the job. Rebar cutters are the correct tools for cutting the bars into smaller portions or for general fitting practices. Any professional will refer you to a rebar cutter as using other tools like a cutter torch, or adopted mechanisms might require more effort and/or reduce the work quality.
Rebar cutters work in different ways. Some need access to a power outlet, and others are hydraulic. Others need batteries, while others run off-electricity. You only need to place the reinforced bar between the tool's jaws and close them. The cutter is supposed to split the bar into two pieces.
Hydraulic Rebar cutters use hydraulic properties to cut through bars. The significant component is pressure, so the tool has unique mechanisms of creating enough pressure to help with the task.
Best Hydraulic Rebar Cutters in the market in 2023
VEVOR Hydraulic Rebar Cutter
The VEVOR Hydraulic rebar cutter is a versatile tool and can be used in numerous industries. That's down to its rugged construction, and VEVOR has been outstanding in manufacturing hardened tools and equipment.
With a 13-ton thickened cylinder, you can help generate the required pressure to cut even huge pieces of reinforced bars. Again, the cylinder is constructed such that there are no leaks whatsoever, thereby increasing its efficiency. One person can comfortably handle the bar cutting to save energy and time.
VEVOR hydraulic rebar cutter is made from a super-hard steel construction that does not wear quickly. You'll be able to use the tool for quite some time before you can think of a replacement. The blades have been passed through extreme heat during construction to ensure they have an expansion ability suitable to the job at hand. The handles are insulated against electricity and heat for extra safety and comfort.
The VEVOR's maximum cutting diameter is 22mm.
Reasons to Buy
22-millimeter maximum cutting diameter

13-ton cutting pressure

Durable construction

Versatility
Happybuy Handheld Hydraulic Rebar Cutter
This hydraulic rebar cutter from Happybuy works like the VEVOR rebar cutter. It can help you generate enough pressure to cut through a 22-millimeter reinforced steel bar. Its manual design is rugged but, at the same time, comfortable and safe to operate.
The hand grips are insulated against heat and electricity by a rubber coating. The coating helps you use the tool for extended hours by providing comfort while the tool is in operation. Happybuy has ensured that their Rebar cutter is lightweight to increase convenience during operation.
One of the features that the Happybuy rebar cutter takes pride in is its durability. Their cylinder is made without any possibility of ever developing leaks or any defects. Again, it has a robust steel construction that can withstand 13 tons of pressure. The high pressure generated from the cylinder is transferred to the jaw, where the cutting happens. Happybuy rebar cutter's heads are made from strengthened steel and have no challenges with cutting rods as thick as 22mm.
The rebar cutter comes with a handy toolbox for storage and portability. The plastic toolbox prevents it from interacting with moisture, extending its lifespan. You can use the Happybuy rebar cutter in numerous industries as its nature makes it versatile.
Reasons to Buy
Reinforced steel design

22mm maximum cutting diameter

Convenient operation
Uxcell Hydraulic Rebar Cutter
The Uxcell Hydraulic Rebar cutter is widely used in construction but can also help in transportation, petroleum, electric power, and metallurgy, among other fields. It helps cut steel bars but can be used for similar jobs in the construction industry.
Due to its metal construction, you know you won't replace it soon. However, not all parts are made from metal. The handles are plastic and offer insulation and comfort during operation. They also give you a comfortable grip so you can use the tool for extended periods with utmost comfort.
The rebar's head and blade are made from forged steel for an extended working life. Again, the tool is rugged enough to withstand workplace drops and high pressure.
Working with the Uxcell hydraulic rebar cutter is easy. You won't need a manual, and even the inexperienced can use the tool comfortably. You'll need to turn the hydraulic pump on and secure the steel bar between the jaw. Afterward, press on the handle, and the rebar cutter will do the rest for you.
The Uxcell hydraulic rebar cutter generates a maximum crimping power of six tons. It is used by one person single-handedly and comes with a carrying toolkit.
Reasons to Buy
Easy to use

Durable

6-ton maximum crimping power
Tonchean Hydraulic Rebar Cutter
If you need a tool for cutting reinforced bars of up to 16mm in thickness, the Tonchean Hydraulic rebar cutter is an excellent tool for that. It has a maximum crimping power of six tonnes that helps to cut through the steel bars.
One of the significant features of the Tonchean hydraulic rebar cutter is its outstanding quality. The tool's head and cutters are reinforced steel to ensure they achieve the correct efficiency and last longer in service. The pressure pump has a thickened steel construction to help prevent pressure or oil leaks.
The rebar cutter's main body is also made from steel, but its handles have plastic and rubber elements. The rubber helps provide comfort so you can perform the cutting comfortably for extended periods.
The Tonchean rebar cutter is easy to store and carry, especially with a separate toolbox. You can use the tool in numerous industries, including transportation and metallurgy.
Reasons to Buy
6-ton maximum crimping power

Can conveniently cut bars with 12mm thickness

Durable construction
Reconveri 8T Hydraulic Rebar Cutter
The Reconveri hydraulic rebar cutter is a versatile reinforced steel bar cutter that can be used in numerous industries. Its 8T maximum cylinder pressure produces enough pressure to work on numerous bar-cutting fields.
The Reconveri hydraulic rebar cutter's capacity to withstand such immense pressure is all down to its solid steel construction. The pressure is then passed to the tool's jaw, where the cutting happens.
Even with rugged construction, the handles are made to suit long working hours and harsh working conditions. Thus, they are insulated and rubber-coated to ensure you're comfortable.
The Reconveri rebar cutter comes with a toolbox for portability and storage purposes.
Reasons to Buy
Comfortable to use

8T working pressure makes the tool suitable for numerous fields

16mm maximum cutting diameter
Different Types of Rebar Cutters
Here are the different types of rebar cutters used in the construction industry:
Manual Rebar Cutters
Manual Rebar cutters are handheld tools primarily used in the construction industry to cut rebars. They have a maximum cutting diameter of 19mm. However, they are not mostly preferred because they require a lot of effort just to cut a single metal bar. Again, they may not offer the required precision, leading to a material loss.
Electric Rebar Cutters
These are the most common rebar cutters in the construction industry. Their superior construction and use of electricity while working increase their precision and efficiency. They are preferred because they require little effort and provide too much output in a short time.
Electric rebar cutters have a maximum cutting capacity of 32mm. Some electric rebar cutters can perform both horizontal and vertical bar cutting.
Electric rebar cutters can either have a 110-220V or 220-240V power rating.
Hydraulic Rebar Cutters
Unlike electric rebar cutters, hydraulic ones use pressure to cut through reinforced construction steel bars. They are constructed with a piston-like oil-filled cylinder to help relay pressure to the jaws.
Cordless/Battery-Powered Rebar Cutter
Just as the name suggests, cordless rebar cutters run on batteries. They are considered most reliable when power runs out, but it might be a problem when the batteries run out too. To alleviate such a condition, more-modern rebar cutters come with the option of dual-power input. They'll use electricity and jump to the batteries when power runs out.
What Should You Look For When Buying a Hydraulic Rebar Cutter?
Here are the features you should look for when purchasing a hydraulic rebar cutter.
Cutting Strength – Since hydraulic rebars help professionals with cutting reinforced steel bars regularly, their cutting strength is a top-notch priority. Check out the maximum crimping speed of your hydraulic rebar to ensure it can handle lots of tasks comfortably.
Construction – Most construction tools and equipment are made from reinforced steel. Ensure your hydraulic rebar is made from a rigid material and can handle tough cutting. Again, a solid construction will increase its lifespan. Check the pressure cylinder to see if there are any leaks or possibilities that it might leak in the future.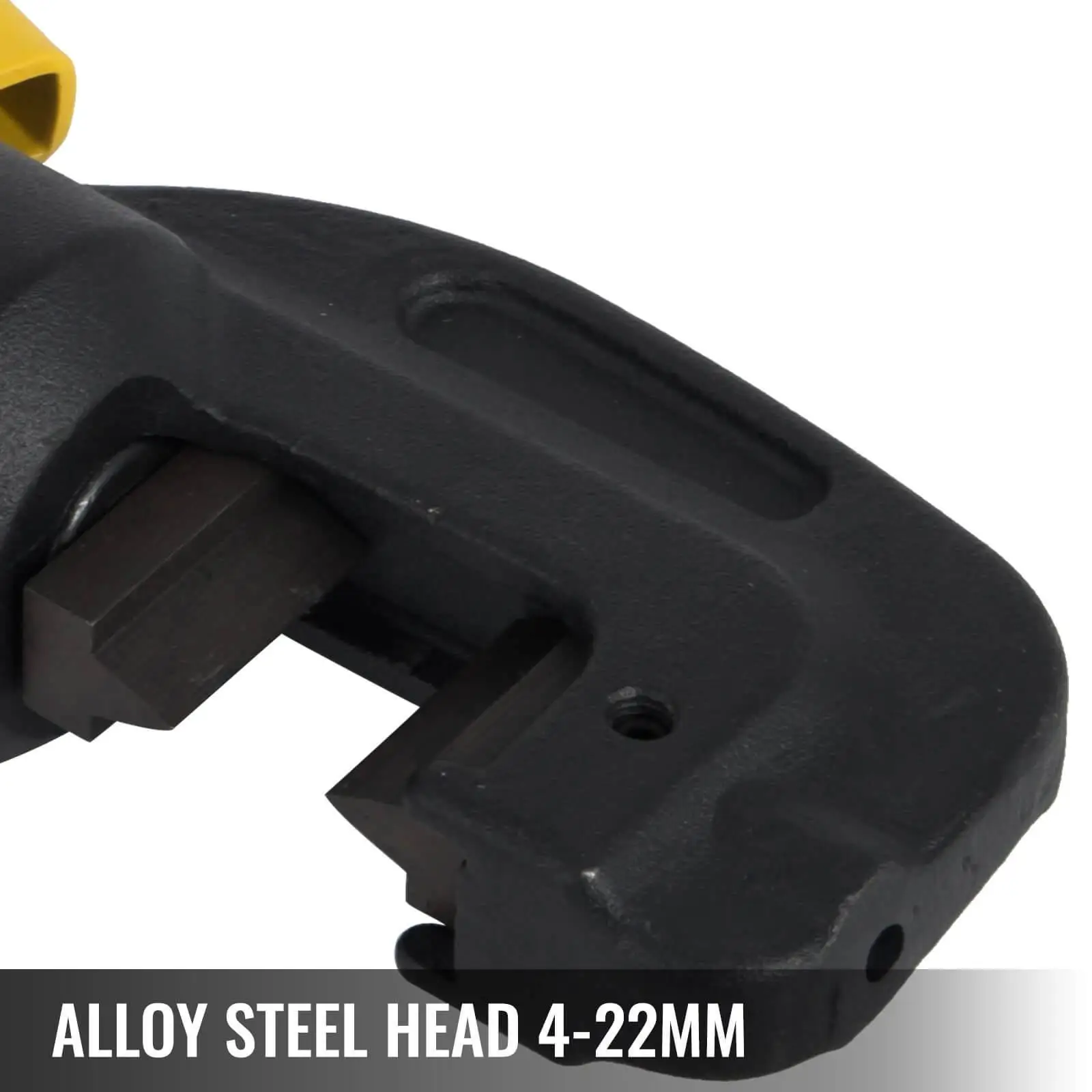 Cutting Diameter – Not all construction ars are of the same size. Kindly check out the full capability of your hydraulic rebar cutter before making a purchase, including how wide the jaws open.
FAQs about Hydraulic Rebar Cutters
Are Hydraulic Rebar Cutters worth it?
Yes. Hydraulic Rebar cutters are worthwhile investments in the construction industry. They help with cutting reinforced steel bars and therefore play an important role. Professionals advise using rebar cutters to achieve efficiency and the required precision. Moreover, you'll reduce material wastage, thereby saving some bucks.
How do Hydraulic Rebar Cutters Work?
Hydraulic Rebar Cutters use hydraulic principles to relay pressure to the jaws, which cuts even the most rigid materials. The effectiveness of your hydraulic rebar cutter depends on its pressure rating.