It is undeniable that the best chafing dishes are essential utensils in the catering world. Therefore, you can see that chafing dishes are widely used in various catering events such as parties, banquet halls, hotels and more.
For this reason, there is a wide variety of chafing dishes on the market with different styles and types.
Choosing high quality chafing dishes might not be an easy task because a chafing dish comes with several parts such as a tray, frame or power source and deliver several styles to choose from.
In this article, I've rounded up the best chafing dishes to help you make a worthy choice.
What Exactly Are Chafing Dishes?
We understand that size matters, and for some people going for a standalone refrigerator or a deep freezer may seem appealing compared to a countertop food prep station. However, there are lots of benefits to having a countertop food prep station, either for personal or commercial use.
You can bank on your item's freshness
When it comes to food and drink preservation, freshness is of utmost importance, especially if you are running a catering service. The cut-edge advantage of having a prep counter is that it can help in preserving food items, ready food, or food in between any stages fresh without tempering with their original taste.
Apart from its refrigerator capacities, a countertop food prep station can also function as a display table. It can serve as a platform for arranging food and cutting slices. It can be used for spreading dough and cutting surfaces that can withstand all the knife's impact while dicing in the kitchen.
The primary reason behind modern countertops' big size is to aid their operational capacities. A countertop can efficiently hold different food items like beef, ingredients, and sauces in one place. Away from the refrigerator, the countertop can also be used for other activities within or outside the kitchen.
Top 5 Refrigerated Countertop Food Prep Station
1. VEVOR Refrigerated Condiment Prep Station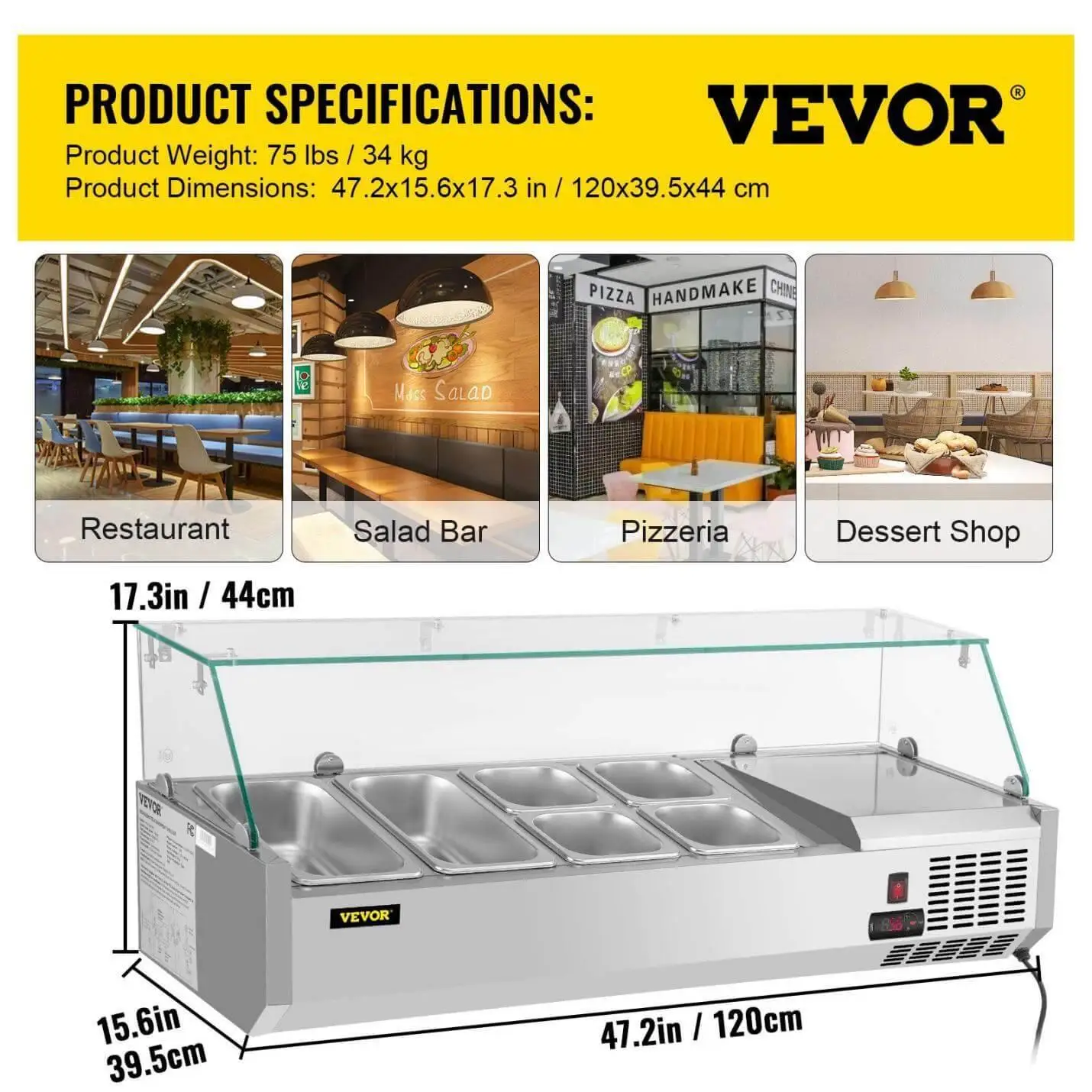 The VEVOR Refrigerated Condiment Prep Station is a 48-inch, 10.8Qt that keeps your food items fresh thanks to its 146 W compressor capacity. The machine control is in your hands, giving you the unlimited freedom to set its coolness level to accommodate your salad, condiments, and sandwich toppings at a temperature that will preserve their freshness and taste.
Features and Performance
Effortless control and usage
The VEVOR Refrigerated Condiment Prep Station is designed with an electronic thermostat that allows users to have quick time information about the countertop temperature level. The device also has defrosting settings that enable the user to bring down the temperature and cooling rate to a desired level.
Stainless body at its best
The VEVOR Refrigerated Condiment Prep Station is designed with a 304 material-based stainless body that allows it to be compatible with the harshest kitchen environment.
Pros
Compatible with preserving various types of food items like tomatoes and salad prep, and can be easily deployed for table work within the kitchen

All in one function. It can be used for the food item and ingredient preservation, keeping them fresh and safe for consumption.
2. Turbo Air CTST-1200G-N 47
The Turbo Air CTST-1200G-N 47 is the perfect option for any restaurant that wants to improve its cold serving options. It is designed in such a way that it can fit perfectly into a small area, and it can be placed on any countertop or railing.
Features and Performance
Digital display:The Turbo Air CTST-1200G-N 47 is programmed in a way that users can grasp the device's operation through the digital board.

Stainless body:The entire outer structure of the Turbo Air CTST-1200G-N 47 is stainless steel, making it easy to clean and maintain
Pros
Side mounted compressor

The power button is placed in an area that can be easy to access the switch and off buttons.
3. Arctic Air ACP4SQ Compact Refrigerated Countertop
The Arctic Air ACP4SQ Compact Refrigerated Countertop has a size dimension of 15 "D x 25.75" W x 9.13 "H, stainless steel with one door, and it has the capacity to hold four 1/6 size pans that is up to 6″ deep in the back and 4" in the front.
Features and Performance
Comfy:

If you plan on managing your kitchen space, the Arctic Air ACP4SQ Compact Refrigerated Countertop is only 15″ wide, making it blend perfectly with your cooking environment.

Lid is provided:

You don't have to worry about getting a secondary pan or lid cover. Everything is available, and all you need is to connect the device and use it straight away after purchase.
Pros
The stainless steel body structure enables it to fit into any harsh and commercial environment.
4. KoolMore SCDC-3P-SSL Commercial-Refrigerator
The KoolMore SCDC-3P-SSL Commercial Refrigerator has three spaces designed for a removable stainless steel pan for keeping your salad toppings, pizza, slice fruit, and sandwich ingredients in good shape.
Features and Performance
Big food pan space:

The KoolMore SCDC-3P-SSL Commercial Refrigerator has three food pans, and each pan has a dimension of 12 5/8″ L x 6 7/8″ W x 6″ H. The food pans are removable and can be used for keeping prepared food and ingredients in good condition.

More than one purpose:

T he countertop refrigerator can serve as both a freezing device and, because of its glass sneeze guard, it can also function as a tabletop or salad bar.
Pros
Perfect for a restaurant or establishment with limited space.

The device's digital display provides vital information about the refrigerator's operations.
5. MUKEEN Ice Cooled Condiment
The MUKEEN Ice Cooled Condiment has six compartments primarily built for keeping food, fruit, and ingredients cool, fresh, and safe for consumption. It can be used for both indoor and outdoor services.
Features and performance
Versatile:The MUKEEN Ice Cooled Condiment is suitable for preserving and keeping your fruits, salad toppings, sauces, and prepared food fresh without diminishing the taste.
Dishwasher safe: Although the cover is hinged, the beauty is that it can be easily detached for proper cleaning and washing.
Pros
The compartments are removable, making it easy to refill content

The package comes with six removable compartments, so you have it all in one package.
Different Types Of Refrigerated Countertop Food Prep Stations
The refrigerated countertops are of two main types, namely the salad prep /sandwich and Pizza prep table. Although they have a lot in common, they still have their differences to a large degree.
The sandwich prep table has a shallow cutting board which is primarily designed for sandwich bread and sub. In addition, it has a standard 1/6 size food pans provision in the top storage. A pizza prep table, on the other hand, has a deeper cutting board area, 1/3 food pans, top storage space, and a raised pan rail.
Guide To Buying A Refrigerated Countertop Food Prep Station
Choose your configuration
Knowing what you want before clicking the buy or add to cart button while shopping for a refrigerated countertop is significant. It is important that you know your kitchen size, the device power consumption rate, and your needs. Having all this information beforehand will help you make the best and most informed decision when buying a refrigerated countertop.
Having a refrigerated countertop with a drawer is not a determinant in making the decision for some restaurants and establishments. But if you are looking forward to getting alternative storage for keeping your items, then buying a refrigerated countertop with drawer fittings is a good purchase.
A countertop standing at 650mm or below is considered a low heights countertop. This feature is fantastic for organizations having staff in a wheelchair.
The benefit of having glass door prep counters is that it enables users to see through the machine when it is operational or not. This feature is great for an establishment with a busy schedule.
What is the key difference between cold walls and forced-air cooling?
Cold wall uses an evaporator, and the tubes are directly connected to the walls of the unit, making the cooling system spread evenly on each unit's walls. This cooling method is suitable for a pizza table and perfect for highly dense ingredients and items like meat and cheese.
Force air, on the other hand, blows cooled hair on the food pans to make it cool to a desirable level. It is suitable for items like vegetables and ingredients that can be affected by dryness.
How to determine the best pan size?
Before investing in a countertop food prep station, we recommend that you check through your menu to have a scope of your establishment's needs. You also need to check your space to determine the countertop food prep station that you need at the very moment. On the food pans, you can always modify the pan, especially if the food pan that came along with the device is not serving your needs.
Application
Disposable chafing dishes:

It has the same construction as standard chafing dishes, but is disposable. In other ways, you can remove or even throw it after serving to save time and clean-up with ease. Therefore, it's utilized the most in outdoor catering events.

Drop-in chafers:

In contrast to disposable chafing dishes, as the name suggests, this kind will be stored permanently on the countertop. Therefore, it is ideal for professional buffet settings such as a hotel or other permanent food stations which require an upscale appearance.

Marmite chafers and coffee chafer urns:

These sorts of chafing dishes are commonly used to keep hot liquid, for instance,

mouth watering Italian soups

, coffee, water for tea, hot chocolate, and more at an appropriate temperature.

Chafer griddles:

Unlike other chafing dishes, this type don't come with a cover. Moreover, it can also cook food by using chafer fue

l.