You've probably used kerosene stoves on a campsite. And by now you know they're more than just an inconvenience.
They are expensive, costing you at least an extra $10-$50 every time you pack for an outdoor trip.
As someone who has used jet-fuel stoves and over a dozen wood-burning canisters at various campsites over the past few years, I can confidently say that small wood-burning stoves are more reliable, easier to use, cheaper and more environmentally friendly.
So in this guide I'm going to take you through some of the best wood stoves currently on the market, describe them in detail and tell you their pros and cons.
Things You Should Think About Carrying With Your Wood Burning Camp Stove
When buying a tent wood stove, there are various factors to consider to ensure that you get the best stove for your needs. Some of them include:
Size
Consider the size of the space you will be heating and choose a stove that is appropriately sized. A larger stove will heat a larger space, but it may also be heavier and more difficult to transport.
Efficiency
Look for a stove that is designed to burn wood efficiently and produce minimal smoke. This will help to keep your tent or cabin clean and reduce the amount of wood you need to use.
Portability
If you plan on using your stove while camping or backpacking, you'll want a stove that is lightweight and easy to transport.
Durability
Look for a stove that is made from high-quality materials and is built to last. This will ensure that your stove will stand up to regular use and last for many years.
Safety
Look for a stove that has been tested and certified by a reputable organization for safety and emissions.
Multi-Fuel Capability
If you have access to multiple fuels and would like to burn them in the stove for different purposes, it's good to look for a stove that has multi-fuel capability.
Accessories
Some stoves come with accessories like ash pans, spark arrestors, and door gaskets, which can make using and maintaining the stove easier.
List of Top 5 Wood Burning Camp Stove of 2023
Here is our list of Tent Wood Stoves:
The VEVOR Tent Wood Stove is a portable heating device that is specifically designed for use in a camping tent. It uses wood as fuel and can be used to heat the tent and provide warmth in cold weather conditions. The VEVOR Tent Wood Stove is made from high-quality materials, ensuring durability and longevity. It is well designed to be easy to use, with a simple and efficient combustion system that allows for easy lighting and adjustment of the flame. The stove also features a chimney pipe for safe and easy smoke ventilation and it is designed to be lightweight and portable so it can easily be transported to your camping or hunting spot. This stove is suitable for outdoor enthusiasts who are looking for a reliable heating source to keep them warm and comfortable in the wild.
Features
304 Stainless Steel Material

Tent Stove Kit

Superior Design
Pros
Portable & Convenient Storage

Wide Applications

Efficient & Economical
US Stove Caribou Portable Camp Stove
The US Stove Caribou Portable Camp Stove is a lightweight and easy to pack camp stove that is perfect for small to medium-sized tent installations. It weighs only 20.7 pounds, making it a welcome addition to any gear set. It includes a complete camp stove kit, with 6 feet of chimney pipe, legs, flue brush, damper tool and racks in a portable carrying case.
Features
Complete Camp Stove Kit

Easy-Adjust Door Damper

Heavy Duty Steel Construction
Pros
Lightweight & Portable

Easy to Set

Better Air Flow
Camp Chef Alpine Heavy Duty Cylinder Stove
The Camp Chef Alpine Heavy Duty Cylinder Stove is an ideal wood burning stove for outdoor cooking, tent camping, outdoor events, and emergency heat. It features heavy duty steel construction. It also includes a 5″ diameter, 10 ft. chimney pipe and all parts store neatly for easy storage and transport.
Features
Alloy Steel Construction

Wide Form Shelf Rack

Adjustable Legs

Wire Spark Arrestor

Fire Grate in Bottom
Pros
Easy to Assemble

User-Friendly
Guide Gear Large Outdoor Wood Burning Stove
The Guide Gear Large Outdoor Wood Burning Stove is a great choice for camping, tenting, hiking, fishing, and backpacking. This stove features a large 24″ x 17″ x 15″h. firebox made of 2mm galvanized steel and is finished with a high-temp finish. It also has a cast iron door with an adjustable vent, a fiberglass door gasket, and an adjustable damper. This stove is great for use in small spaces and can be folded up for easy transport. Reviewers have noted that this stove is of good quality and easy to pack. Some minor modifications can be made to improve performance.
Features
High-Temperature Resistant

Cast Iron Construction

Galvanized Steel Firebox
Pros
Durable for Seasons

Ideal for Any Outdoor Use

Portable
Happybuy Tent Wood Stove
Happybuy Tent Wood Stove is a portable wood stove composed of 304 stainless steel construction, perfect for outdoor camping, tent heating, hunting, and outdoor cooking. It includes a miniature wood stove, top plate, 9 pipes, grate, vent, and is silver in color. The total height of the stove is 113 inches, and it has a maximum energy output of 1500 cubic inches.
Features
Stainless-Steel Material

Tent Stove Kit

High Capacity
Pros
Highly Portable Design

Efficient & Cleanest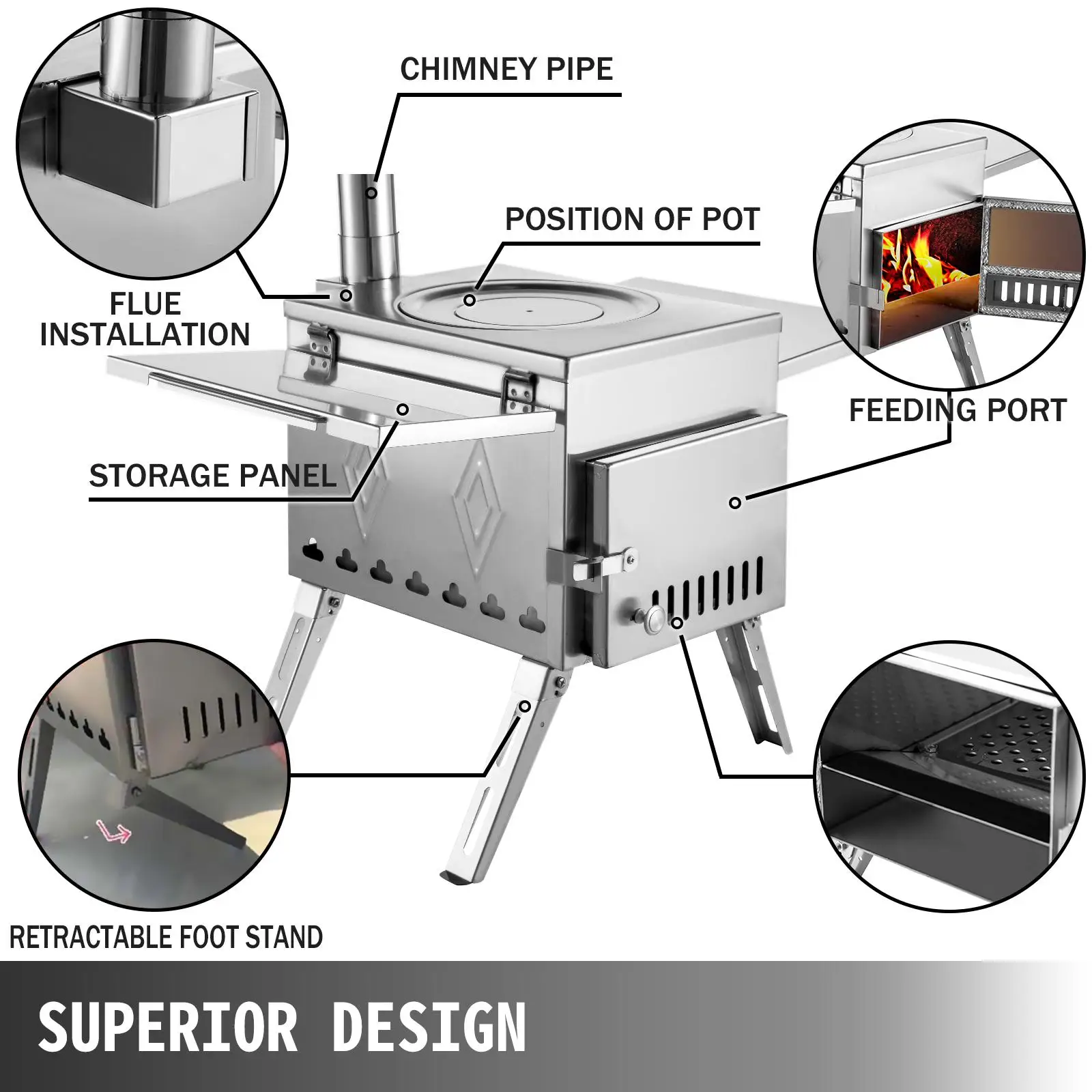 There are several types of tent wood stoves obtainable on the market, each with their own unique features and designs. Some popular types include:
Portable Tent Wood Stoves
These are small, lightweight stoves that are easy to transport and set up. They are designed to be used in tents, cabins, and other small spaces.
Wall Tent Wood Stoves
These stoves are larger and more powerful than portable stoves. They are designed to heat larger spaces, such as wall tents or hunting cabins.
Rocket Mass Heaters
These stoves use a unique design that allows them to burn wood more efficiently and with less smoke. They are well-suited for off-grid living and are often used in tiny houses and other small structures.
Dutch Oven Stoves
These stoves are designed to sit on top of a Dutch oven, allowing you to cook food and heat your space at the same time.
Foldable Wood Stoves
These stoves are designed to be easily packed up as well as transported, making them a great option for camping or backpacking trips.
Multi-Fuel Stoves
These stoves can burn wood and other fuels like coal, charcoal, and biomass pellets.
Wood Burning Camp Stoves vs. gas, liquid or multi-fuel stoves
There is no denying that gas stoves are very easy to use and efficient in terms of cooking time and flame control, but for this privilege you need to buy and carry enough fuel to last the entire trip. Alcohol and multi-fuel stoves are also nice and easy to use and can be even more efficient, but again you are forced to buy fuel and then carry as much as you can.
If you are travelling light and fast, carrying heavy and bulky fuel canisters can be a pain, especially if you have to carry the empties for miles before you find a container. The best wood stoves, however, are incredibly compact and lightweight, so there's no need to carry gas tanks or fuel bottles.
If you are in a wet environment or expecting rain, it is wise to carry a small bundle of kindling to start a fire. But in most cases you can gather enough dry wood or material towards the end of the day, if not after you have set up camp. Starting a fire is not as easy as lighting a flame, but it is more rewarding and sustainable, and most, if not all, are compatible with alcohol burners and, of course, solid fuel blocks in emergencies.