The wine and coffee bar cabinet is one of most important division in any home. The bar cabinet is sure to draw attention from everyone with its unique look and appearance. A wine and coffee bar cabinet is your go-to when celebrating with friends and family or at a formal event with business partners and co-workers. The bar cabinet also comes in handy when spending time alone or having a romantic evening with your special someone. It also gives most homes a more classy and elegant look. The cabinet's flashy colors and attractive design are all you need to give your home that luxurious appearance.
Why Should You Buy A Wine And Coffee Bar Cabinet?
The bar cabinet can be used as storage for wine bottles

It perfectly beautifies homes, giving them a more sophisticated and luxurious look.

It comes as extra storage for kitchen utensils.
Top 5 Wine and Coffee Bar Cabinet
1. VEVOR wine bar cabinet
The Vevor Wine Bar Cabinet is provided with available places to store and stash all drinks in the home. It is perfectly equipped and can function as a buffet sideboard, coffee stand, and coffee bar. Its adjustable legs and durable material make it easy for the bar cabinet to stay firm on the ground.
Features And Performance
Flexibility

: The Vevor wine bar cabinet can easily be extended to display foods and drinks. It can also be turned into a tabletop to place books and potted plants.

Secure And Stable

: The extra two legs and iron structure ensure the stability and durability of the bar cabinet.
Attractive Designs

: The fine wood and metal frame give most homes a simple and sophisticated appearance. The metal door stands as a form of prevention from dust.

Available Storage

: The Vevor wine bar can also be used as bathroom shelves, office storage shelves, kitchen storage shelves, bookshelves, and coffee bar shelves. It fits perfectly into various locations, such as the kitchen, corridor, bedroom, and living room.
Pros
Amazing available storage

Secure and stable

Attractive design

Easy to use

Easily adjustable
2.
Sandy boho handcrafted wooden bar cabinet
This Sandy Boho Handcrafted Wooden Bar Cabinet has a unique and convenient appearance. It can be used at regular dining with family and a more classy event with business partners. The cabinet easily fits the theme with its playful colors and vintage charm.
Features And Performance
Recycled Material: The Sandy Boho Handcrafted Wooden Bar Cabinet is made from reclaimed wood. Its eco-friendly features give most homes that one-of-a-kind appearance.
Hand Painted:

Each part of the cabinet is crafted and painted individually, making each piece unique and special

Available Storage:

The bar cabinet includes various storage, such as glass slots to store glasses and a wine rack.
Pros
Very effective

Stable

Spacious

Attractive features
3. Genuine decor wall mounted wine rack and glass holder
The Genuine Decor Wall Mounted Wine Rack, and Glass Holder features make it capable of holding up to four wine glasses and five bottles simultaneously when staying firm into the wall. It displays all available drinkware and drinks in the cabinet and adds a glow to the living room.
Features And Performance
Very Effective

: The wine and coffee cabinet can easily hold up to four wine glasses and five wine bottles while mounted on the wall.

Assembled

: The bar cabinet is already formed at purchase and takes less stress when setting up on the wall

Accessories

: The cabinet comes along with its wall-mounted rack.
Pros
Provision of wall-mounted rack

Made of solid wood

Stays firmly on the wall

Decent available storage

Lightweight
4. KINGS brand furniture wood wine rack buffet & storage cabinet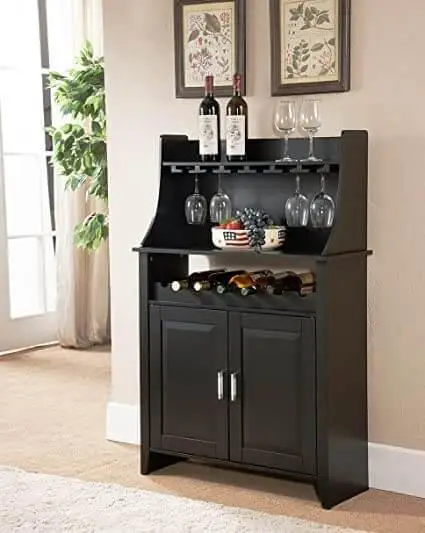 The Kings Brand Furniture Wood Wine Rack Buffet & Storage Cabinet perfectly fits the dining room's theme. It includes a lower rack to hold up to seven wine bottles and a hanger for glasses. It also comes with an adjustable shelf to hold whiskey and scotch.
Features And Performance
Various Features

: The Kings Brand Furniture Wood Wine Rack Buffet includes a lower rack for wine bottles and a hanger for wine glasses. The adjustable shelf can be used as storage for napkins, spare plates, and wares in place of a kitchen cabinet.

Available Hanger

: The bar cabinet comes along with a hanger to place wine glasses where they can easily be accessible to everyone

Perfect Cabinet For Small Areas

: It is ideal for small homes. It can be placed in corners of homes without taking up much space. It provides studio-size apartments with a more classy look.

Provision Of A Seven-Wine Rack

: The bar cabinet comes with a seven-wine stand to hold up to seven wine bottles in their respective slots.
Pros
Good value for money

Easyto use

Sturdy cabinet

Excellent quality

Classy exterior
5. GOBAR portable high top bar cabinet
The GoBar Portable High Top Bar cabinet includes a hidden shelf to store all wine bottles and glasses. This bar cabinet is the perfect go-to cabinet for party hosting and can easily be folded up into its case when done using it.
Features And Performance
Portable

: This portable pop-up bar takes less time to set up and is easily tucked away when done with. It is the ideal bar cabinet for club parties and corporate events.

Attractive Features

: The bar cabinets include amazing features such as hidden storage to store liquor and a place to keep personal items. The bar's surface could be designed to suit individual preferences and styles and can easily be folded and stored away when not used.
Pros
Lightweight

Very affordable

Great quality

Easy to set up

Extra storage
Different Types Of Wine And Coffee Bar Cabinet
The corner bar is the perfect choice of bar cabinets for most homes with little space. They occupy less space while staying in the corner, providing enough area for other items in the house. With the best design choice, the corner bar can easily fit into the individual theme of the living room or dining room without losing its style.
The folding bar can easily be transformed from a full-on bar to a bar wine cabinet, making it suitable for a large gathering or a small event with friends and family.
The cabinet has additional shelves for other liquors and beverages in the home.
The Hide-a-bar is the perfect cabinet to hide drinks and liquor from others. Its appearance resembles other home furniture items, such as regular cabinets or dressers, making it easy to hide away. The cabinets have extra spaces to store all other items.
The wrap-around bar can be placed in the center of a living room. It also includes adjustable shelves on each side. It comprises a wine rack, a place to store liquor, and a stemware rack.
What Should You Look For When Buying A Wine And Coffee Bar Cabinet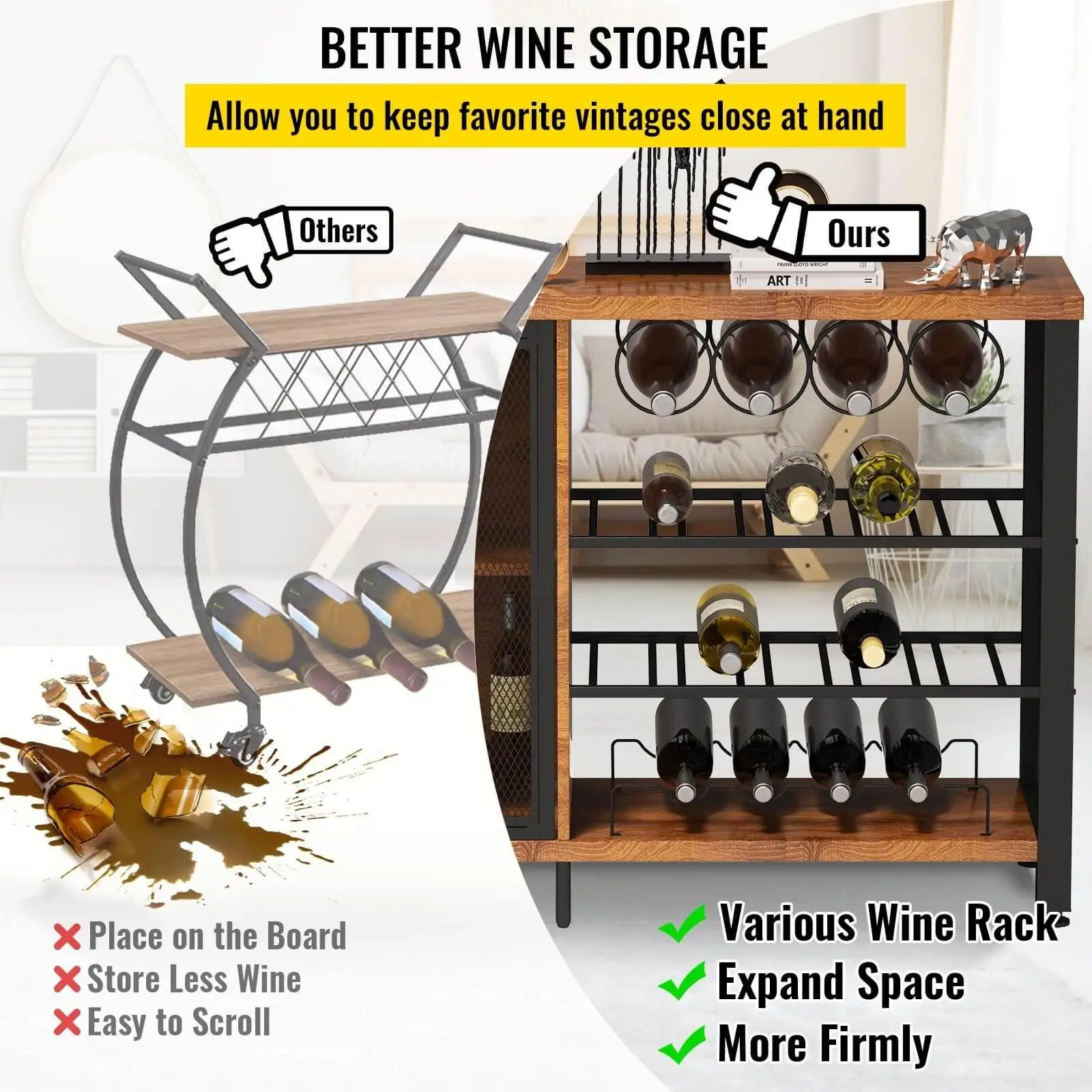 The most important feature to look out for when buying a wine and coffee bar cabinet is the size. Usually, you would have to go for the size that works best for your home or office. If it's too small for your space, it would look awkward in a huge room. This is the same if it's too big, as it could leave little room for movement.
Also, you need to be sure of the purpose of the wine and coffee bar cabinet. If you just want something that can comfortable take only a few bottles, a smaller cabinet will work. However, if your needs are bigger, you need to incorporate this too. The VEVOR wine and coffee bar cabinet is great for any space and has a lot of additional room to take as many wine bottles as possible.
Are Wine And Coffee Bar Cabinets Worth It?
Yes, they are absolutely worth it. Wine and coffee bar cabinet gives homes a more upgraded look and appearance. You can always drink at the bar whenever you feel like relaxing after a long and stressful day at work. It gives your home a sophisticated look when hosting a party with business partners and a simple yet classy look when partying with friends and family members. You also can't rule out the level of organization that wine and coffee bar cabinets add to the home. With the VEVOR cabinet, you can maximize your space as it can take up a coffee machine, desk lamp, potted plant, wine bottle, books, microwave oven, frying pan, glasses and pots.
FAQ about Wine And Coffee Bar Cabinet
Question: How Strong Is The Cabinet?
Answer: The Bar Cabinet Is Made Of Solid Iron And Strong Wood.
Question: Can I Use The Bar Cabinet In The Office?
Answer: Yes, it fits perfectly in almost every space, including the office.
Question: Can I Keep The Glass In The Wine Rank?
Answer: There Is A Separate Space For Wine Glasses In The Cabinet.
Question: What Colors Does This Bar Cabinet Come In?
Answer: The Items Come In Various Colors.