No matter how small you think your space is, there's always a way to add buzz to your life. While life happens sometimes and we end up finding ourselves in lives that we never dreamed of, we are still not limited to keeping our dreams activated. You might be a suburban type of person that loves to see your lawn decorated with flowers of all kinds but end up living in skyscrapers.
This should not come in the way of your flower garden dreams, thanks to technology. You can now have a vertical garden planter that will make the most use of your outdoor space, no matter how small.
If you've heard of an outdoor vertical garden planter before, you might not yet have gotten yourself one because you might be dazed by the plethora of options in the market, and that's very understandable. This article is here to help you know how to get yourself a good deal without spending so much.

List of Top 5 Outdoor Vertical Garden Planters of 2023
1. VEVOR Vertical Garden Planter
The VEVOR Vertical Garden Planter comes at just the right height that you need to irrigate your plants easily, excellent material of the frame informs its longevity and the large capacity of the containers allows you to have as many plants as possible. These are among the reasons why VEVOR's vertical garden planter ranks first on our list.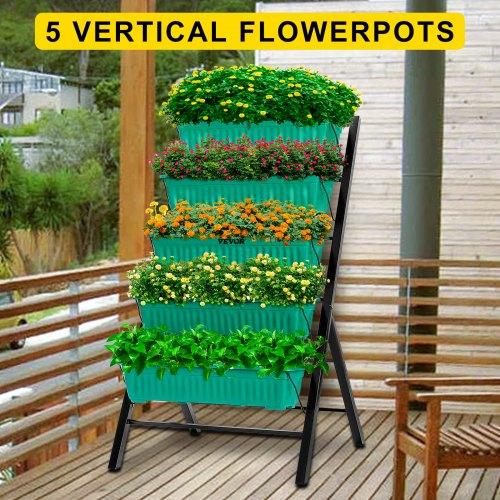 Looking at what matters most, the price, VEVOR has worked to ensure that you enjoy the coveted privilege of shopping with them. You now have a chance to participate in a coupon challenge and win a whopping $100 slash of the price.
The coupon offer is eligible for clients who will sign up for the VEVOR MONTHLYDY PROECIS and share their DIY products. This offer is not only available to the VEVOR Vertical Garden Planter but also to all other products from the company.
Features and Performance of the VEVOR Vertical Garden Planter

4-foot vertical garden frame: This vertical garden planter is perfect for your outdoor space, coming in the right height to make irrigation and planting easy. Its sturdy frame is made of high-quality iron, powder-coated with steel to make it long-lasting and rust-proof. The frame offers adequate weight support for the plants, soil, and bins, and is sure to hold everything together even on windy days.

Food-grade containers: With the planting bins, you can turn your wildest imaginations into reality, going as far as planting vegetables, herbs, etc. This is because the bins are made of PP material to make the plants safe for your health.

Besides, the bins are large enough, hence you can capitalize on them. The bins are also weather resistant which makes them suitable for both indoor and outdoor use
Excellent drainage system: With VEVOR vertical garden planter, you won't have to struggle with stagnant water because the tool employs a cascading drainage system. In this way, water is able to drip down to a lower bin, all the way down, ensuring that each bin is sufficiently watered.
Fast installation: You don't need any tools to get started. You only need to pull up the frame before latching the hook in place to ensure that the planter is sturdy enough. You can place the planter on any free space whether on your patio or balcony.

Wide scope of usage: The VEVOR vertical garden planter is suitable for any use such as planting herbs, vegetables, flowers, seedlings, etc.
Specifications
Frame material: Powder-coated steel

Bin Material: Food-grade plastic

Number of bins: 5

Frame dimension: 26x26x49 inch

Frame color: Black
2. FLEXIMOUNTS Vertical Raised Garden Bed
Here's another 4-foot outdoor vertical garden planter that fits snugly in your tight spaces. While it is pricier than we expected, it comes with an ergonomic design that makes watering your plants very easy and other features.

Features and Performance of FLEXIMOUNTS Vertical Raised Garden Bed

A good option for small spaces: The FLEXIMOUNTS vertical raised garden bed allows you to make the most use of your very small corner spaces, as long as there is a good light and oxygen supply. You hence have a good planter for both indoors and outdoors.

Cascading drainage system: The 5-tier planter serves you with excellent drainage, allowing you to grow any type of plant. The water drips from the uppermost bin through to the lowest one, allowing zero chances of water stagnation.

High-quality frame material: The frame is made of powder-coated steel that adds to the sturdiness of the frame, and its durability. This also gives you a rust-resistant frame.

Food-grade plant containers: You have the leeway of consuming anything you plant in these bins because of their BPA-free, 100% PP material.
Specifications
Material: Polypropylene, Alloy Steel

Color: Black

Mounting Type: Floor Standing
3. Highpro Vertical Garden Planter
Highpro's vertical planter comes with 5 tiers that are carefully designed to help you make the most out of your free deck, patio, and apartment spaces. While it is a price-friendly option, it may not be as good as the two options above.

Features and Performance of Highpro Vertical Garden Planter

High-quality steel frame: The material of the frame makes it strong enough to hold the weight of the soil, plants, and bins combined. Its wide-foot triangular design gives it enough stability as well.

Large capacity: The herb planter features a powder-coated steel frame and 5 planter bins. Each bin can hold up to 0.6 cubic feet of soil, allowing you to plant as many plants as you wish.

Unlimited exposure to sunlight: The foot of the standing frame is wide enough to expose all plants to sunlight. In that way, no plant will be restricted to grow as well.

Instant installation: The assembling of the planter is straightforward without the need for any tools. Besides, the package comes with an installation guide.
Specifications
Material: Plastic, Metal

Planter form: Raised bed

Color: Green

Product dimensions: 25.9″(W)*28.3″(D)*45″(H)
4. Vertical Garden Planter 3 Tier Vertical Raised Garden Bed
This is a 3-tier raised bed vertical planter that fits your small planting needs. The outdoor vertical garden planter comes at a very fair price as well.

Features and Performance of Vertical Garden Planter 3 Tier Vertical Raised Garden Bed

3-tier garden planter: The 16.8 x 6.8 inches Vertical Garden Planter comes with 3 big-enough planter boxes that could fit your flowers, vegetables, herbs, and seedlings.

Durable structure: You have a heavy-duty, coated metal frame that's wear-resistant, allowing for both indoor and outdoor use. Besides, it has a triangular foot base to prevent collapsing.

Easy assembling: The frame can be easily set at a standing position while the bins are easy to set in place.
Specifications
Color: Brick red

Material: Plastic, Metal

Overall Size: 38 × 17.7 × 18 inches

Planter Bin Dimensions: 19 × 6.8 × 5.5 inches

Product Weight: 4.56 lbs

Tier: 3 Tier
5. Kinbor Vertical Garden Wall Hanging Planter
Kinbor presents a 6-bin vertical garden planter that's not free-hanging but could fit into any free space.

Features and Performance of Kinbor Vertical Garden Wall Hanging Planter

Sturdy: This planter is strong enough to hang onto your walls while holding the weight of the plants and soil for as long as you need.

You can make the most use of this planter by growing strawberries, foliage plants, and vegetables

Each of the 6 boxes has a waterhole that prevents waterlogging.

Ergonomic design: The planter is designed to eliminate the need to bend over when you need to plant or water your plants.

Easy installation: Following the instructions of the installation guide, the planter is very easy to set up.
Specifications
Material: Alloy steel, plastc

Color: Dark green

Product dimensions: 21 x 5 x 26 inches

Weight: 220 pounds
The above review clearly shows why VEVOR is our most preferable outdoor vertical garden planter. Comparing the exposure to sunlight, drainage technology, material, durability, and price aspects, the VEVOR Vertical Garden Planter is justifiably the best in the market.

Different Types of Vertical Garden Planters
1. Green Walls
They involve plants that are either planted in bins or modular green panels that hang across a wall. They may involve flowers, vegetables, small trees, or herbaceous plants. They are used both indoors as deco or outdoors.
2. Green Facades
These involve climbing plants that grow up a wall or support structure. These plants can grow to incredible heights winter jasmine, clematis, or honeysuckle.
3. Freestanding Vertical Garden
This category involves containerized plants that can be easily installed on balconies or patios. The planters come with different tiers while the containers can hold different capacities. A good example is the VEVOR Vertical Garden Planter.

What Should You Look for When Buying a Vertical Garden Planter?
Material:

While you'll find wooden and metallic options, you're better off with plastic bins that are 100% PP and BPA-free. In this way, the planter is lightweight and will go a long way.

Place of installation:

A wall planter is a little different from a balcony planter. Wall planters are mostly made for decorating purposes while balcony planters are meant to endure different weather conditions.

Cost:

What's the overall cost of the planter and are there ways to make the deal fairer? For instance, good brands like VEVOR have offers where you can get the planter at an even cheaper deal.
Are Outdoor Vertical Garden Planters Worth It?
A vertical garden planter is only worth it if it has all the features needed to make your outdoor space beautiful among other important purposes. If you're out for a worth-the-money investment, look for a planter that incorporates all the important features while going out at an affordable price.
FAQ About Outdoor Vertical Garden Planters
1) Which is the best garden planter bin material for outdoor space?
A plastic material that's scientifically curated for human consumption. Besides, plastic is also good for harsh weather conditions.
2) Can I grow root vegetables in my vertical garden planter?
While this depends on the depth of the bin, root veggies do well in most vertical planters.
3) Are vertical garden planters easier to maintain?
Yes, compared to regular gardens. Vertical garden planters require less space, hence, less water and maintenance costs. Be sure to keep your plants well irrigated, adequately exposed to sunlight, and in overall good condition to get the most out of your vertical garden planter.