With every hustle and bustle in the current world, great automation has been applied to every task. Every human activity is improvised; hence work is made easier and more fun compared to recent years. Chain slings are among the most valued and essential machines that are relied on for lifting heavy items at work.
Where are Chain Slings used?
The mostly used chain slings are grade 80(T) and grade 100 (V), and grade 120, as they can fit in a variety of applications in load lifting. Chain slings are mostly used in Australia. Among the heavy duties the chain slings can carry out is lifting loads in construction sites, factories, and mining sites. Mostly the chain slings are applicable in cargo security towing and handling. Chains slings are capable of this kind of this duties since they are made of high-tensile chains that feature a variety of fittings that are attached.
Types of Slings
It is wise to know the right chain sling that will be the most appropriate according to the nature of the heavy loads you will be dealing with. You have to be aware that the slings are temperature resistant and flexible, with enough tensile Strength for handling a vast range of loading conditions. Chain slings come in three distinct types that include;
Single Leg– as the name suggests, this chain sling features a single length supporting the lifted load. Even load distribution must be applied for one to use it. There are certain chain slings that have got links that support the master links and sling hooks, foundry hooks, and sling grab hooks. You will find other models that are adjustable, while others are compatible with a limitless basket configuration. Once you engage the grade 80 chains, you will find links with sizes that extend up to 7/8 inches. This is a different story for grade 100 chain slings, as it has links that are one and a quarter inches thick. There are single-chain slings that offer a weight capacity rating of up to 70 000 pounds.
Double Leg– this is a kind of chain sling that comes with two separate links of chains that are designed to support the lift. With the double-leg chain slings, you have the option of using master links with sling hooks, grab hooks, and foundry hooks. The weight capacity of the double-leg sling goes up to 100 000 pounds. You will find this type of chain slings in the versions of grade 80 and grade 100 that feature 7/8 models with one-quarter length sizes, respectively.
Multi Leg– this is a type of chain sling that is meant to offer seamless lifting capabilities that will ensure that loads measure over 180000 pounds which is not possible in the other types of chain slings. The multi-chain sling is designed to entail three or more chains. The multiple slings come in the same grade option.
Benefits of Slings
Here is why it is highly recommended that a chain sling should be used in lifting heavy loads;
High-Temperature Tolerance

– it is quite fascinating that chain slings can work perfectly even in extremely high temperatures and hence ideal for working in any temperature conditions.

Cut-Resistant

– with chain slings at your service, it is least likely to experience any fatal damage that may result from resisting abrasions and other external pressures.

Safer lifting

– the chain slings in the market are properly and satisfactorily approved for overhead lifting jobs

Durability and Strength

– the chains are made of alloy steel that delivers the required Strength to lift extremely heavy loads with greater ease.
How should you use Chain Slings?
Proper knowledge of how chain slings can be used can generally ease the whole load-lifting process. The initial thing you need to do is inspect the slings before use. This will help you replace any broken safety latch.
Before lifting, be aware of the weight of the load and make sure the weight load does not exceed that of the sling. After this, you are to check if the chains fit freely. You should watch out if your hands and fingers are kept from getting between load and chain when you tension the slings and landing loads.
You should balance the load to prevent overstress on either of the slings or the load from slipping free. Remember, it is advisable that you should reduce the load limit when using a chain in temperatures above 425 degrees Celsius.
https://www.youtube.com/watch?v=kOydT4wraSk
VEVOR is among the top equipment and tool suppliers that have motivated a wide range of employees. The VEVOR brand is loved due to its premium and quality tools in a very fast and secure manner. The heavy-duty VEVOR chain sling with four-leg grab hooks is among the tools that are proudly sold by this equipment and tools supplier.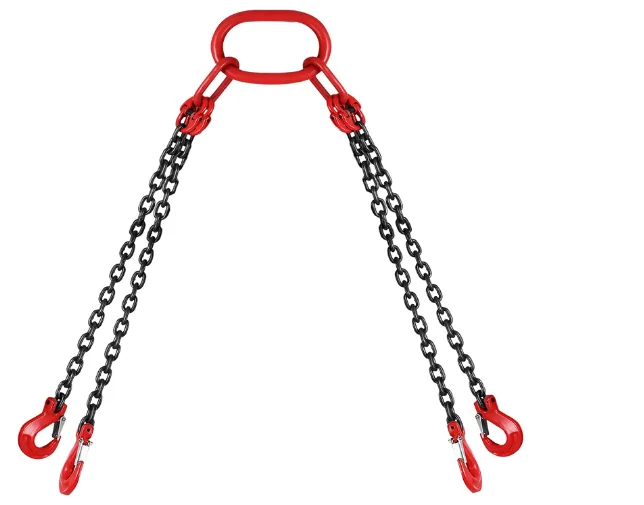 This Chain sling is designed to offer 11000 pounds loading capacity. The VEVOR chain sling measures a length of 5 inches and a chain diameter of 5/16 inches. You can use this product with greater confidence as it features a breaking strength that exceeds 800mpa.
Thanks to this heavy-duty chain with hooks are made of G80 Mn-steel that comes along with a hoist link that is made of alloy steel with powder coating. The durable steel construction delivers a full-automatic welding technology for long-lasting use. The alloy steel used is powerful as it offers resistance to corrosion, rust, abrasion, and high temperature.
The four leg grab hooks in the VEVOR Lifting chain sling are adjustable. The hooks are designed to attach to the chain link, which is attached to the master link as the chain tends to the top. This feature allows you to adjust the chain sling to the desired length.
You will adore the self-locking hooks made of alloy steel that is strong and hard enough to prevent loads from slipping. The hooks have got a pivot in the middle, where the hooks lock when the lifting pressure is exerted. You get the ultimate ease of use when you connect the hanging ring to your lifter, and the chain lets you hook the loads as you start the lifting. There are security clips that bar the loads from slipping off and, in the process, provide you with security.
Most people love the versatility this Chain sling brings as it is able to work under any external conditions that include extreme temperatures. The tool has undergone thorough proof testing of its working load limit and can help you achieve the loading you need.
The VEVOR chain sling is meant for a vast application as it is the perfect machine for various moving activities and, most importantly, lifting heavy loads in construction sites, factories, buildings, mining, cargo lifting, and other application sites. The VEVOR chain sling is the most preferred tool for cargo security towing and handling.
Out in the Chain sling market, you will find a wide range of chain sling options that suits each and every specified need and action. Before you make the key decision of selecting the best chain sling for you, you have to take keen note of the following factors;
Your desired style– there are two styles of chains. There are standard slings that feature a fixed chain length that is available in various lengths, leg options, diameters, chain link widths, and end fittings. There is also the adjustable chain sling that is similar to standard slings. It allows you to freely adjust the length of the sling without compromising the lifting strength and the workload limit as well.
Your favorite brand– this depends on the brand that you trust, as you will be likely to trust the brand you admire most. Your selected brand should feature all types of chain slings for more convenience. The VEVOR brand ensures that you are well sorted out in case you need a strong and dependable chain sling for your tasks. Other chain brands include Pewag, KWB, Crosby, and other popular brands.
Why Choose VEVOR
The VEVOR brand being among the leading equipment and tool suppliers gives you a very reason to trust its well-designed chain slings. VEVOR brands are known to offer you a seamless range of chain slings and other tools that are o premium quality. Once you order your product, you will see me amazed by how fast and convenient it is with the VEVOR brand.