When it comes to protecting your property from water damage, flood bags are an excellent solution. These durable and reliable barriers can help prevent water from entering your home or business during floods or heavy rains.
But with so many options on the market, how do you know which ones to choose? Fear not, for we have scoured the market and compiled a list of the top five best flood bags of 2023. From easy-to-use options to heavy-duty solutions, our ultimate guide has got you covered. So, grab a cup of coffee and let's dive in to find the perfect flood bags for your needs.
Sandbags that activate with water can be stacked to create a higher barrier. The only difference is they don't bear weight like sandbags. In order to ensure a solid barrier, use the pyramid formation
Top 5 Best Flood Bags Reviews
We have compiled a list of the best flood bags for you and our reviews and guides for them. With instant options available to you, you don't have to spend time digging yourself out of a hole in research.
1- VEVOR Flood Bag- WaterProof and Light Weight
Introducing the Vevor Flood Barrier bags Hydro Barrier, a durable and effective solution for water diversion. This product is designed to protect your property and assets from flooding and water damage by redirecting water away from your desired location. With a length of 24 feet and a height of 12 inches, this flood barrier bag is suitable for a wide range of applications, including homes, businesses, and construction sites.
It's made of PVC tarpaulin material with good wear resistance and a lot of bearing capacity. It's sturdy and durable, won't break easily, and you can reuse it season after season.
Performance and Features
● 24ft in length x 20in width x 12in height, holds up to 288.7 gallons weighing 2425 lbs when filled with water.
● Designed to stop the flood barrier bags bags from moving in larger water currents.
● Operated effortlessly with three simple steps: Unpack, Fill with water, and Lock the valve.
● Made of industrial-strength PVC tarpaulin material with good wear resistance and significant bearing capacity.
● Net weight: 23.2 pounds. Portable and foldable for convenient storage and transportation.
● Excellent tool for flood prevention, disaster preparedness, and erosion control. Ideal for use in doorways, garages, roads, and dams during the rainy season or hurricanes.
Pros
● Easy to use with a simple three-step process of unpacking, filling with water, and locking the valve.
● Lightweight and stackable.
● Versatile and suitable for a wide range of applications.
2- 5FT Water Activated Flood barrier bags, Sandless Water absorbing sandbags
The Water activated flood bags provide a quick and efficient flood prevention, protection, and control solution. These sandless flood bag alternatives are easy to store and deploy, lightweight, and eco-friendly. The water-activated flood bags can be fully expanded and ready to use in just five minutes.
Performance and Features
● The flood barriers bags are lightweight and easy to store.
● The water-activated sandless sandbags are easily set up in just 5 minutes, even by a child.
● The flood barrier bags are made of water-absorbent material and can expand to 3-4 inches in just 5 minutes.
● These flood barrier bags don't require sand.
● These eco-friendly flood barrier bags won't harm family members or pets.
● 24-hour customer support for these flood barrier bags includes free replacements and full refunds if necessary.
Pros
● Quick and easy to deploy in just 5 minutes
● Lightweight and easy to store; no sand required
● Reusable and eco-friendly
● Maintains activated status for up to 3-4 months
Cons
● You still feel flooded
3-
WEISGJA Long Canvas Sandbags for Flooding, 4Pcs Thickened Reusable SandBags with Ties, Tube Water absorbing sandbags for Indoor and Outdoor Waterproof Barrier During Hurricane, Snow and Rain Season
This anti flood bags are designed to protect natural disasters such as floods, hurricanes, and heavy rain. Made of high-quality, waterproof material, these sandbags are sturdy and reusable.
Performance and Features
● Made of sturdy, waterproof, UV-proof, wear-resistant, tear-resistant, and reusable canvas material.
● Large capacity design: 60 inches in length and 6 inches in width.
● Unique opening with an elastic band to prevent sand leakage.
● Applicable to any scene: inlet protection, securing plastic sheeting, a barrier against heavy rain, snow, hurricanes, and floods.
● Package includes 4 flood sandbags, cost-effective and widely used for multiple safety needs.
Pros
● Suitable for various applications such as flood control, hurricane protection, and more.
● It can hold up to 30 pounds of sand for strong reinforcement.
● Easy to use and tie with built-in ties.
● Portable and lightweight for easy storage and transport.
Cons
● Most of the time, packages are defective
3- Quick Dam QD617-1 Flood barrier bags
The Quick Dam Water-activated sandless sandbags are a highly effective and easy-to-use flood control solution. Once activated by water, the barrier quickly expands, creating a barrier that diverts, contains, and controls flood water.
Performance and Features
● It can grow up to 3.5 inches high in just a few minutes by getting wet
● Flexible design enables the creation of various shapes to control, contain, and divert floodwater
● It has a super absorbent powder to swell water
● You can use it right away without the sand or labor needed
● Lightweight and compact for easy storage until needed
● The dual chamber design prevents the unit from rolling out of place
● Suitable for both indoor and outdoor use
● Not suitable for use with salt water, as it causes deflation due to a chemical reaction
Pros
● Compact and lightweight design for easy storage and use.
● Flexible and easy to store.
● Economical.
Cons
● Not Reliable
4- DURASACK Heavy Duty Burlap Water absorbing sand bags with Tie Strings Empty Sand-Bags for Flooding and Erosion Control, 14×26 inches, Pack of 5
DURASACK Burlap Sandbags are a versatile and durable solution for various applications. Trusted by various organizations, including the US government, these flood sandbags are built to withstand harsh weather conditions and provide ultimate protection. They are made from 100% biodegradable jute plants, which means they will decompose on their own, making cleanup hassle-free.
Performance and Features
● DURASACK sandbags are military-grade and trusted by various organizations.
● They offer ultimate flood and storm protection and can be used as building blocks for quick dams or barriers.
● DURASACK Burlap Sand & Utility Bags are 100% biodegradable with zero artificial additives.
● These bags have multiple uses, from construction sites to anchoring canopies and umbrellas.
● Built-in tie strings give users total control over how they want to use these ultra-tough utility bags.
● DURASACK is North America's largest industrial supplier of flood sandbags, with 146 years of experience.
Pros
● Durable
● Effective
● Biodegradable
● Versatile
Cons
● Feel apart after one usage
What Are the Different Types of Flood Bags
Here are the different types of flood bags:
1. Traditional Sandbags
The most common type of flood bag is the traditional sandbag made of burlap, a woven fabric made from jute or hemp. They are typically filled with sand, dirt or other similar materials and stacked to create a barrier.
2. Polypropylene Sandbags
These flood bags are made from woven polypropylene and are a more modern alternative to the traditional burlap sandbags. Polypropylene sandbags are also available with UV inhibitors to extend their lifespan.
3. Water-Activated Flood bags
These are pre-filled sandbags that are dry until they come into contact with water, at which point they swell and become heavy, creating a barrier against flooding.
4. Self-Inflating Flood bags
These bags are similar to water-activated flood bags in that they inflate when they come into contact with water. These water bags are great for flood protection. However, they contain a special gel that absorbs the water and swells to create a barrier.
5. Biodegradable Flood bags
These are flood bags made from biodegradable materials, such as jute or cornstarch. They are an environmentally-friendly option and will naturally decompose over time.
What Should You Consider Before Buying Flood Bags
Here are some factors to consider before buying flood bags:
Material:
Look for bags made from durable and tear-resistant materials that can withstand the pressure of heavy water flow. Popular materials include burlap, polypropylene, and PVC.
Size:
Determine the size of the area you need to protect and buy bags that are appropriate for the size. You should also consider the size of the bags when empty and filled with sand.
Water Absorption:
Check the capacity of the bags to absorb water to ensure they can effectively prevent flooding.
Weight:
Consider the weight of the bags when empty and filled with sand. Choose bags that you can easily move around and place in position.
Ease of Use:
Look for flood bags that are easy to fill and tie. Some bags come with built-in ties that make the process easier.
Reusability:
If you want to use the bags more than once, look for reusable bags that are easy to clean.
Cost:
Compare prices and choose bags that fit your budget. Keep in mind that the cheapest option may not always be the best in terms of quality and durability.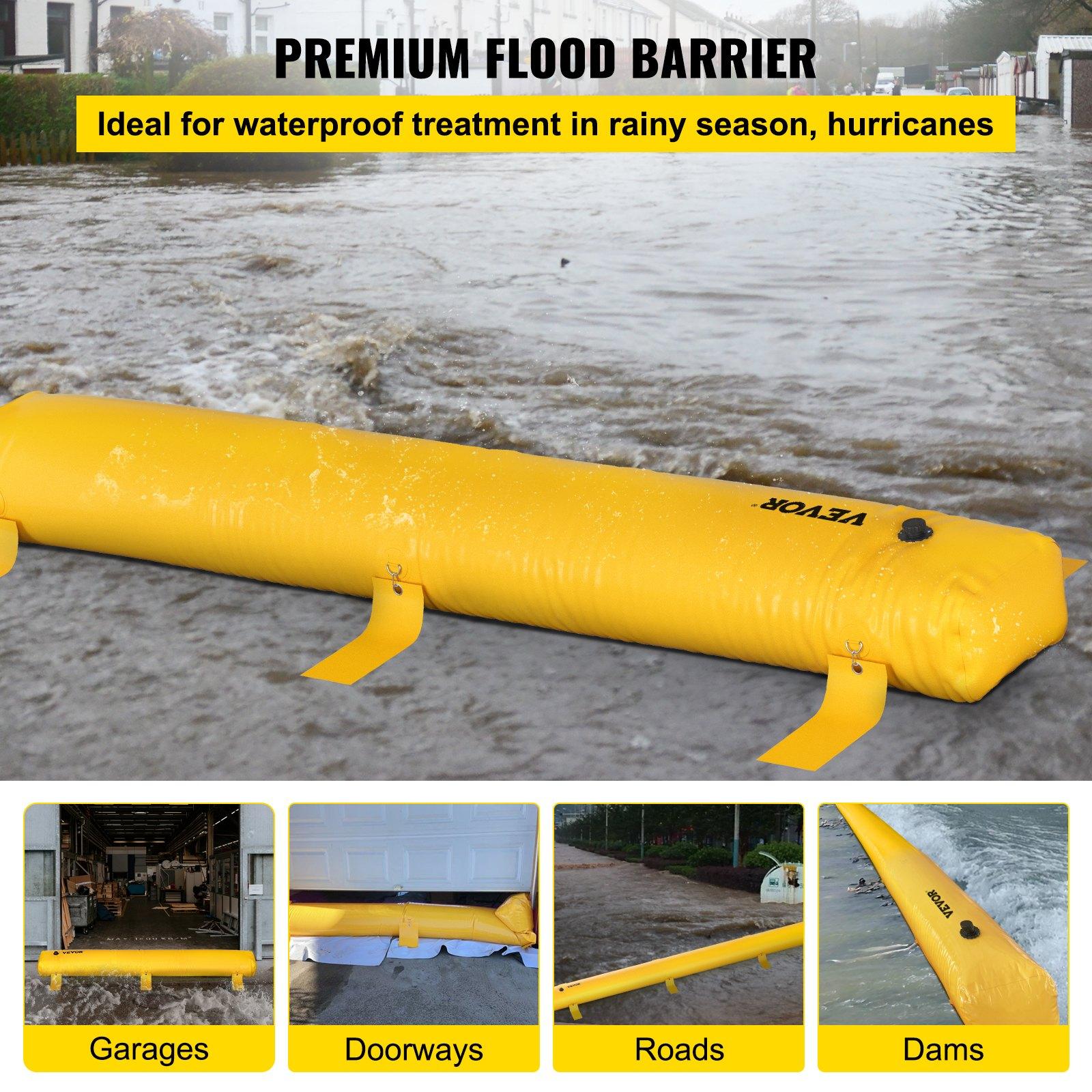 FAQ About Flood Bags
1- What is a flood bag?
A flood protection bags is a type of emergency bag or sack that is specifically designed to prevent or mitigate flood damage. They are usually made of durable, water-resistant materials like polypropylene or burlap and are filled with sand or other heavy materials to create a barrier that can divert or contain floodwater. These water barrier bags can be used to protect homes, businesses, and other structures from flooding, as well as to prevent erosion and other types of water damage. They are an essential tool for anyone living in flood-prone areas or for emergency preparedness kits.
2- Are flood bags reusable?
It depends on the type of flood bag. Some flood bags are designed for single use only and should be disposed of after use, while others are reusable and can be cleaned and stored for future use. It is important to check the manufacturer's instructions before using a flood bag to determine whether it is intended for one-time use or multiple uses.
3- How long do flood bags last?
The lifespan of flood bags can vary depending on factors such as the materials used, exposure to weather and UV rays, and frequency of use. Generally, high-quality flood bags made from durable materials like PVC or woven polypropylene can last for several years with proper care and storage. However, it's important to regularly inspect flood bags for signs of wear and tear, such as cracks, punctures, or fading, and replace them as needed to ensure they provide effective flood protection.
Conclusion
As we come to the end of our ultimate guide to the top five best flood bags in 2023, we trust that we have given you all of the relevant information to make an informed decision when choosing the right flood bag for your needs. Whether you are looking for affordability, durability, or convenience, a flood bag can meet your needs. So stay safe, stay prepared, and invest in a reliable flood bag today!