The fireplace is an essential part of the home that should always be neat, comfortable, and easy to use. One of the ways of making your fireplace tidy and comfortable is going for a fireplace log holder that is good and durable. Do you know what the fireplace log holder is? Would you love to know the best fireplace log holder for you? Hang in there! In this article, we'll be talking about fireplace log holders and the 4 best ones you can buy in the market today.
1. What is a fireplace log holder?
Fireplace log holders are racks that store logs/wood you wish to burn in your fireplace. They are designed to enhance the neatness of your fireplace and to make it easier for you to burn your log of wood. They help you in so many ways such as making it easy for you to neatly arrange the logs in them, preventing dirt on the floor and also making your fireplace so beautiful to look at.
2. Four (4) best fireplace log holders for you in the market today
There are various brands of fireplace log holders out there and so to make choosing the best brand of fireplace log holder for you, we have compiled a detailed review of the best 4 fireplace log holders you will never regret buying.
2.1 VEVOR FIREWOOD LOG RACK/HOLDER
The VEVOR Firewood Log Rack/Holder is a robust and dependable solution for efficiently storing and organizing your firewood. Crafted with high-quality tubular square steel, this outdoor rack guarantees exceptional durability and long-lasting performance. Its sleek black design adds a touch of elegance to any outdoor space while ensuring your firewood remains neatly stacked and well-protected from moisture and pests.
Specifications
Size

: The VEVOR Firewood Log Rack measures 244.5×36.2×122 cm/96″x14″x48″ (LxWxH), providing ample space for your firewood storage needs.

Weight Capacity

: With a weight capacity of 590 kg/1300 lbs, this log rack can securely hold a substantial amount of firewood.

Construction:

The rack is made of sturdy tubular square steel, delivering exceptional strength and stability.

Cover Materia

l: The included cover is made of high-quality VC material, ensuring additional protection for your firewood.

Black Paint Finish

: The black paint finish not only enhances the rack's aesthetics but also offers effective protection against rust, moisture, and harsh weather conditions.

Included Accessories

: The product pack includes a firewood rack, a cover, two different wrenches, a fire poker, and a fire tong, providing you with everything you need for a convenient firewood storage solution.
Features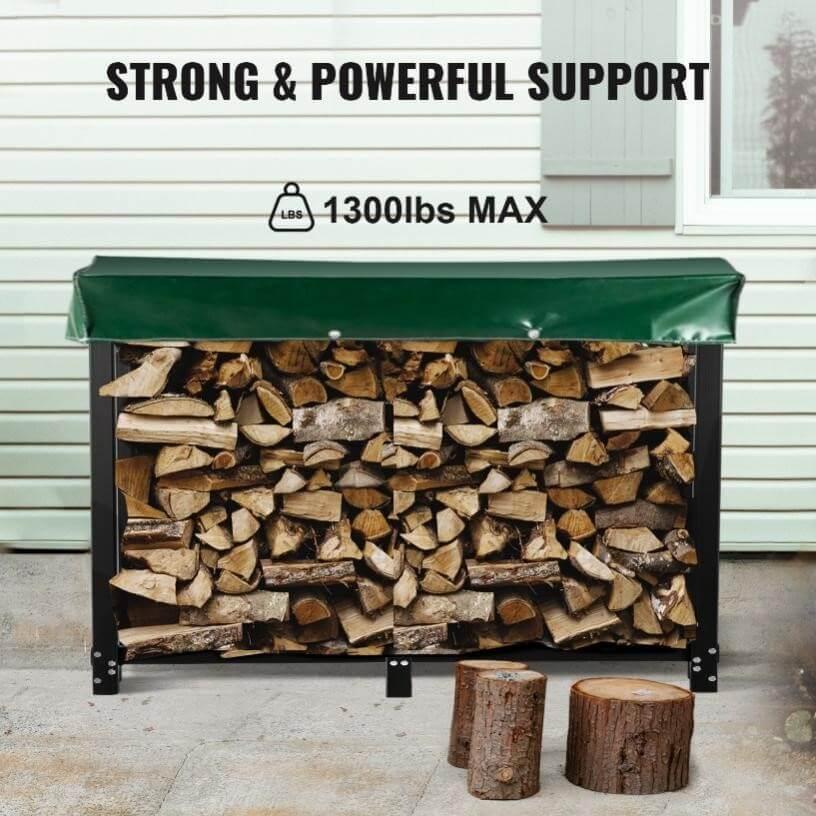 Anti-Rust Paint Surface Design: The VEVOR Firewood Log Rack is equipped with a special anti-rust paint surface, ensuring exceptional durability and longevity. This protective coating effectively safeguards the rack from moisture, heat, and adverse weather, making it highly resistant to rust.
Impressive Holding Capacity: With its remarkable weight capacity of up to 590 kg/1300 lbs, this log rack can securely accommodate a substantial amount of firewood. You can confidently store a generous supply of logs without any concerns about the rack's performance.
Durable Steel Frame: The log rack boasts a robust steel frame construction, engineered with high-quality materials. This sturdy frame ensures the rack maintains its structural integrity even under heavy loads, providing reliable support for your firewood.
Easy to Use: The VEVOR Firewood Log Rack is designed for hassle-free use. It requires minimal effort for assembly, and its user-friendly design makes loading and unloading firewood a breeze. You can quickly and easily access your firewood whenever needed.
Pros
Easy to use

Long-lasting and durable

Sold for exceptionally Affordable Prices

Awesome Customer Care Service

Various Discount offers; you currently get to enjoy free shipping to your location when you buy Vevor Firewood Log Rack- we find this amazing!
2.2 Weathering Steel Tall Log Holder
This is another nice Fireplace Log Holder out there. The product is produced using steel and sheet metal which makes it quite durable to use. One thing to note about this brand is that, unlike the Vevor Firewood Log rack which comes at an affordable price of $115.99, Weathering Steel Tall Log Holder is currently being sold for about $458. It comes in large, medium, and small sizes, and has a rust colour.
Specifications and Features
The Log Rack presents in the dimensions: Large- 79″, 35.5″, 13.75″ (HxWxD), Medium- 59″, 23.5″, 13.75″ (HxWxD), and Small- 39.5″, 15.75″, 13.75″ (HxWxD). It presents in rust colour and can be used for both indoor and outdoor purposes depending on the size. It comes in a raw steel sheet metal that allows it to last well without any damage and it is very easy to use as you do not even have to assemble it before use.
Pros
It is made with quality material

Easy to Use

Available in various sizes
2.3 CANVAS LOG CARRIER BAGS
This is a durable and portable Log Rack that comes in the shape of a bag. It also functions as a bag where you can store other household items, and it can easily be given as a gift to your loved ones. The material used in the production of this product is quite durable and of good quality. The product is only present in this single size and so might be too small for you if you are looking to buy a log rack of medium or large size.
Specifications and Features
The product appears in a strong water and dirt-proof 6oz Waxed Canvas material, and it takes the shape of a bag with handles. It comes in the dimensions: 44″ X 21″ (LxW), and 6.7″ handles size. It is affordable to buy and can be easily used for other purposes aside from a log carrier. It is easy to use and has a beautiful design.
PROS
Portable and easy to carry about

Quite affordable

Serve as a storage for other household items

Made with durable materials

Good form of gift for your loved ones
2.4 AMAGABELI FIREWOOD RACK
The product is a 4ft firewood rack that is perfect for outdoor use. It can hold many kinds of wood at a time and it is very durable. The product is made using Wood, Alloy Steel, Iron, and Metal materials, and it comes with one shelf. Amagabeli Firewood Rack is a good choice when it comes to choosing firewood racks/holders.
Specifications and Features
The Log Rack presents in the dimensions: 48 x 48 x 14 Inches, and can hold up to 1/4 face cord of firewood. It is 4ft and comes in Wood, Alloy Steel, Iron, and Metal materials. It also comes with a corner shelf and has a black power-coating paint design that prevents it from rusting.
PROS
Great Choice for outdoor purposes

Long-lasting and durable

Large Log-holding capacity

Easy to Use

Good Customer Care Service
3. TYPES OF FIREPLACE LOG HOLDERS
We can group the types of Fireplace log holders according to their capacity, there are the Large Capacity Log Holders and the Small Carriers.
3.1 Large Capacity Log Holders
These are designed to hold many kinds of wood at a time and so they are the perfect go-to if you have a large family or something like a party.
3.2 Small Capacity Log Holders/Carriers
These are not designed to hold plentyof wood at a time, they are portable and easy to carry about.
To determine your choice between the Large Capacity Log Holders and Small Capacity Log Holders/Carriers, consider factors like the size of your family and living space, and then go for the one that best suits you.
4. What You Should Look For When Buying Fireplace Log Holders
A few factors to look out for when buying Fireplace Log Holders are:
The Brand

: be sure that you are buying your product from a trusted brand like Vevor to avoid buying fake and non-durable products. Vevor Fireplace Log Rack is one of the best durable products out there.

Price

: you need to go for products that are sold for prices that you can afford, and still has good quality.

Size

: Fireplace Log Racks come in different sizes so you should consider the size of your Fireplace before choosing either the large-capacity Log Holders or small-capacity Log Holders.
5. Are Fireplace Log Holders/Racks Worth it?
The Clear answer is YES! Fireplace Log Holders make your Fireplace look neat and well-arranged. They save you the stress of having to clean up burnt wood litter on the floor. In addition, they beautifully add to how gorgeous your Fireplace looks.
6. FAQs About Fireplace Log Holder
Q: Are Fireplace Log Holders Affordable?
Various Fireplace Log Holders are sold for various prices in the market today depending on the brand. One of the best quality and affordable Fireplace Log-holder for you is the Vevor Firewood Log Rack
Q: Can I buy Fireplace Log Holders Online?
Yes! There are various online sites that you can order your Fireplace Log Holders from; one of them is Vevor.com.
Q: How do I Use a Fireplace Log Holder?
Most of the Fireplace Log Holders out there today are very easy to use, all you have to do is set up your Log holder, assemble your logs in it, and that's all.
7. Conclusion
Fireplace Log Holders/Racks are essential materials that every household must have. They make your Fireplace neater, well-arranged, and more beautiful. One of the best Fireplace Log Holders for you is the Vevor Firewood Log Rack, Order Yours today!