Embarking on a road trip can be an exhilarating adventure. However, ensuring your food and drinks remain cool and refreshing throughout the journey is essential. That's where the best cooler for car travel becomes your ultimate companion. With a wide array of options available on the market, finding the perfect cooler can be a daunting task.
Whether you're seeking the best car cooler for road trips, a cooler with excellent ice retention, or one that's easy to carry, this article is here to guide you through the process. We'll explore the key factors to consider when selecting the ideal travel cooler for your car. We will also showcase our top picks of the market's highest quality options.
From soft coolers with convenient features like drain plugs and shoulder straps to heavy-duty ice chests with advanced temperature control, we'll cover the various types of coolers suitable for road trips. Say goodbye to melting ice and hello to a well-chilled supply of food and beverages throughout your journey. For those seeking durable and reliable options, consider VEVOR coolers for road trips, known for their robust construction and excellent insulation capabilities, ensuring your road trip essentials stay refreshingly cold for extended periods of time.
Join us as we delve into the world of car coolers, providing you with the insights and recommendations needed to make your road trip a cool and refreshing experience.
Our Top Picks of The Best Cooler for Car Travel
1.VEVOR Car Refrigerator 30L
The VEVOR Car Refrigerator 30L cooler is an electric cooler that doubles as a freezer, making it one of the best travel coolers for a car. Its temperature control ranges from -20℃ to 20℃, allowing you to keep your food and drinks at the desired temperature regardless of the ambient temperature. It also has a battery protection function to prevent your car battery from running out of power.
Features
●32 Quart/30L Storage Space: This generous capacity allows it to fit a significant quantity of beverages and food items, including 42 cans of 330 ml/11.1 floz cola, 21 bottles of 550 ml/18.6 floz drinks, and 12 bottles of 750 ml/25.3 floz red wines. Also, it is suitable for storing vegetables, fruits, seafood, meats, skincare products, and breast milk.
●Efficient Refrigeration: The cooler employs Compressor refrigeration technology which enables fast cooling from -20℃ – 20 ℃/-4 ℉ – 68 ℉. This wide range makes it an excellent cooler for food and drinks.
●Perfect Structure: The cooler comes with a digital display for temperature adjustment, two reliable wheels for portability, a USB interface for mobile phone connection, a built-in handle for convenience, and cup holders for stability of drinks in the car. It can also be controlled using a mobile app.
●Battery Protection: The cooler includes 120/240V AC and 12/24V DC adapters, and three levels of battery protection to prevent power overload or short-circuiting.
●Extensive Usage: Its design makes it fit snugly in various spots in a car and it's suitable for various outdoor activities, making it the best travel cooler for car.
Pros
●Large storage capacity suitable for a variety of items.
●Fast and efficient cooling technology, making it one of the best cooler for road trip.
●A structure that caters to user convenience and technological advancement.
●Battery protection ensures safety.
●Versatility in usage, making it perfect for numerous outdoor activities.
Cons
●The larger size may not be suitable for smaller vehicles or tight spaces.
●The refrigerator's advanced features may require a learning curve for some users.
●Depending on the price point, it could be more expensive than other types of coolers.
2.Yeti Tundra 65
The Yeti Tundra 65 is often hailed as the best car cooler for road trips. This cooler is a product of Yeti, a long-established name in the cooler world, and it continues to prove its worth with every test. It offers top-notch insulation, is very durable, and simple to use. This chest cooler is likely the last cooler you'll ever need for road trips, given its exceptional performance and durability.
Key Features
●56-quart capacity
●Holds food-safe temperatures below 40º F for 6.5 days
●Rotomolded cooler with dual handles and an internal height of 10.5 inches
●Features tie-downs, lock points, and anti-slip feet1.
Pros:
●Top-notch insulation
●Very durable
●Simple to use
Cons:
●Expensive
●No drain plug tether
●Smaller than expected
3.Cabela Polar Cap 80
The Cabela Polar Cap 80 is another high quality choice and is widely regarded as one of the best coolers for road trips. It offers excellent insulation performance and a rugged build, making it perfect for extended camping trips, beach days, or picnics where you need to keep a large amount of food and drinks chilled. The Polar Cap is designed to withstand the hottest desert conditions and can keep its contents cold for days on end.
Key Features:
●68-quart capacity
●Rotomolded body for excellent insulation and durability
●Holds temperatures below 40º for eight days
●Anti-slip feet provide excellent stability.
Pros:
●Excellent insulation performance
●Very durable
●Useful features
Cons:
●Heavy
●Difficult to transport solo
4.VEVOR Car Refrigerator 20L Compressor Portable Cooler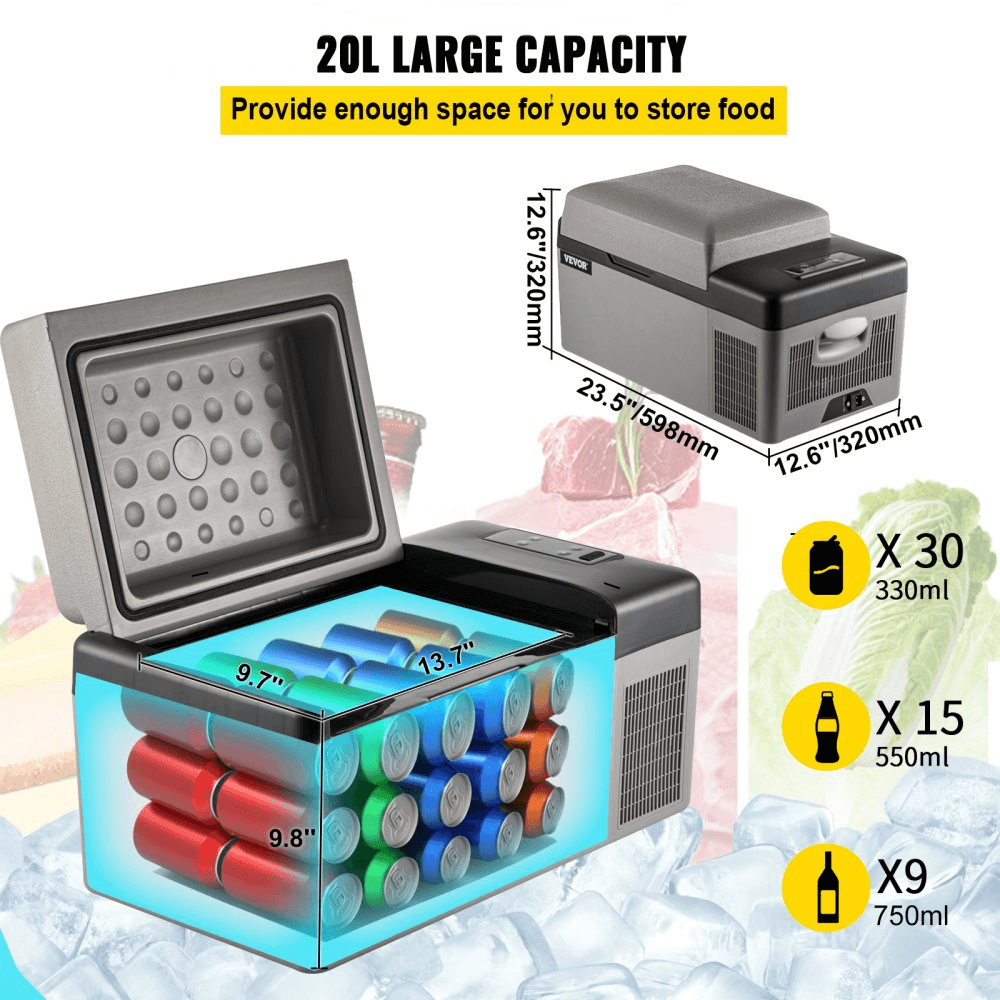 The Portable Mini Refrigerator Compressor Quick Cooling 20L Car Freezer Fridge by VEVOR is an efficient, compact, and versatile choice that sets itself apart as one of the best travel coolers for cars. With a 20L capacity, this electric cooler is perfect for long road trips, providing a high quality temperature control system to keep your food and drinks chilled.
Key Features:
●The cooler comes with a high-efficiency compressor that enables quick cooling and operates quietly, causing low noise.
●The durable and lightweight design of the cooler makes it easy to carry and transport.
●The cooler is made from premium ABS material, ensuring a sturdy and heavy-duty build.
●The cooler also comes with an LCD digital display for easy operation and control.
●It's equipped with a USB port for charging small electronic devices and has a built-in LED light for visibility in low-light conditions.
●The fridge offers multiple uses, making it suitable for car, camping, picnic, balcony, and home use.
Pros
●Compact and easy to transport, making it a perfect cooler for road trips.
●High-efficiency compressor ensures quick cooling.
●Versatile use, suitable for both outdoor and indoor use.
●The built-in LED light provides visibility in low-light conditions.
Cons
●Smaller capacity may not be suitable for larger groups or longer trips.
●The lack of physical insulation may result in less efficient cooling compared to traditional ice chests.
●Reliance on electric power might not be ideal for locations without access to electricity.
5.RTIC 65-Quart Hard Cooler
The RTIC 65-Quart Hard Cooler is a robust and durable rotomolded cooler designed to meet your outdoor cooling needs. Constructed from a single piece of material, this cooler boasts exceptional strength and resilience. With a capacity of 65 quarts, it can accommodate up to 64 cans along with ice, making it ideal for camping trips and wilderness adventures. One of its standout features is the food bin, which securely latches with rubber hooks, allowing you to keep your dry goods separate from the ice at the bottom.
Features
●Rotomolded construction for strength and durability
●65-quart capacity, accommodating up to 64 cans
●Food bin with rubber hooks to separate dry goods from ice
●Two drains for easy release of melted ice
Pros
●Excellent temperature retention
●Retains a significant amount of ice even after 36 hours
●Secure food bin keeps dry goods separate
●Two drains offer flexibility for water release
Cons
●Heavy, weighing approximately 110 pounds when filled
●Lacks wheels, making transportation challenging
Why VEVOR Cools Are the Best Cooler for Road Trip
VEVOR car coolers are the best cooler for road trips. They offer unparalleled convenience and functionality. As the best car cooler for road trips, they come equipped with a shoulder strap, allowing for easy transportation and hands-free carrying. Unlike traditional hard coolers, VEVOR specializes in soft coolers, perfect for storing snacks, drinks, and perishables on your journey.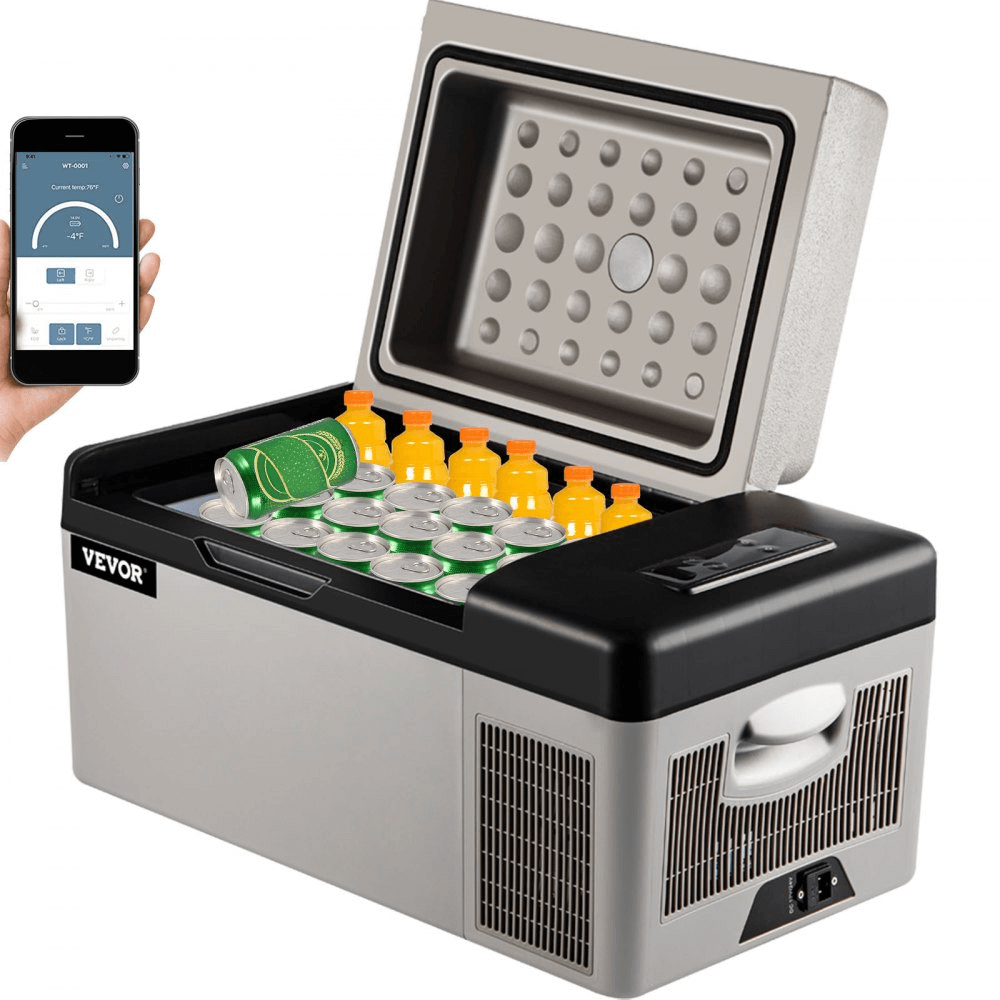 These coolers excel in maintaining desired temperatures despite ambient conditions, ensuring your beverages stay refreshingly chilled. With exceptional ice retention capabilities, you won't have to worry about melting ice and warm drinks. VEVOR's heavy duty cooler bags are designed to withstand rugged use while providing ample storage space for water bottles and other essentials. When it comes to road trips, VEVOR Coolers truly shine as reliable and versatile soft-sided coolers.
FAQs About Best Travel Cooler for Car
1.What factors should I consider when selecting a car cooler for road trips?
Consider storage capacity, cooling performance, portability, durability, and additional features like battery protection or temperature control.
2.Are electric coolers better than traditional ice chests for car travel?
Electric coolers offer precise temperature control, efficient cooling, and no need for ice. Traditional ice chests are suitable for locations without electricity. Choose based on your needs.
3.What are the benefits of using a car cooler for road trips?
Using a car cooler for road trips ensures that your food and drinks stay cool and fresh, providing convenience and saving money on purchasing items along the way. It allows you to have chilled beverages and perishable snacks readily available throughout your journey.
Conclusion
Choosing the best car cooler for road trips is crucial to ensure your food and drinks stay cool and refreshing throughout your journey. Consider factors like storage capacity, cooling performance, portability, and durability when selecting a cooler. Our top pick, the VEVOR Car Refrigerator, offers ample storage space, efficient refrigeration, and convenient features, making it an ideal companion for road trips. With VEVOR Coolers, you can enjoy a cool and refreshing experience on the road.